Roger Zelazny
Completed 2/17/2021, Reviewed 2/17/2021
4 stars
The eighth book of the Chronicles of Amber returns to form, picking the pace up again and making for a good fast read. It starts off strangely but then becomes coherent as the scene unfolds. So don't let the opening sequence deter you. This book is chock full of twists and turns that have for me become synonymous with Amber. And the cliffhanger is killer.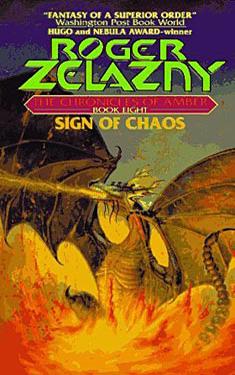 Warning: The rest of this review has spoilers for Blood of Amber.
The book picks up where we were dropped, in Wonderland amidst many of Lewis Carroll's characters. Merlin soon realizes that Luke was slipped a mickey and he is in his acid trip. While there, he is pursued by a Fire Angel. With the help of the Jabberwock, he defeats it and leaves Luke to sober up. He returns to Amber and devises a plan to defeat his half-brother Jurt and the unknown sorcerer he has named Mask. He engages his other half-brother Mandor and Luke's mother Jasra to help him.
The characters are pretty well defined by this book, although we get introduced to Mandor and Jasra. Mandor is an ally and has been since childhood. He's a pretty good guy and adds a nice sense of humor to the story. In the short time we spend with Jasra, we find out she's deliciously devious, but is not above negotiations, agreeing to help Merlin and Mandor defeat Jurt and the Mask. She has a vested interest as this effort would get her back her kingdom. We also again meet the shape shifter, finally finding out its true nature.
The writing is still pretty solid. There are no long ruminations on what's happened up to this point, so the story doesn't get bogged down like it did in Blood. But there are more revelations that add more twists throughout the book. I only saw one of them coming. I have to say that the combat scenes are particularly well written. In many books, I get lost in them and end up glazing over them. But I can follow Zelazny's pretty well.
I give this book four stars out of five. I thought it was up to par with the majority of the Amber novels. As I predicted, I don't have much to say about this book, as much of it has been said in the previous two reviews. Suffice to say that I really enjoyed it and hope the next one can keep up the pace.