Vonda N McIntyre
Completed 12/29/2020, Reviewed 12/31/2020
4 stars
I was prepared to hate this book. It is an alt-history of a period I don't particularly like, the French court of Louis XIV filled with excruciating detail about clothes and social station. The heroine is a poor lady-in-waiting who was abused by nuns when she was raised in the convent in the French colony of Martinique. And an inordinate amount of time is spent on court drama and relationships, licit and illicit. But after about a quarter of the way through, I found myself caught up in all this drama as it supported the main plot of this story, the bringing of a human-like sea monster to Louis' menagerie of animals.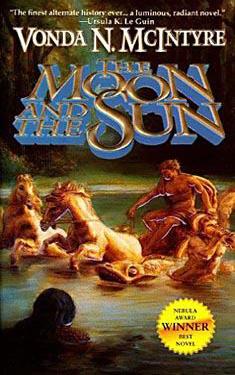 Marie-Joseph de la Croix is the lady-in-waiting to the sister-in-law and niece of Louis XIV. Her brother Yves is a Jesuit scientist-priest who has captured two sea monsters, killing one and bringing the other back to France. Louis is convinced the sea monster has an immortality organ and commissions Yves to find it. Marie-Joseph, who assisted Yves scientific experiments as a youth, once again assists him by caring for living female and drawing pictures of the dead male as he performs an autopsy on it. Marie-Joseph finds she can communicate with the living one and figures out she is human, or at least human-like, having almost the exact anatomy of a human. She fights for the right of the sea monster while Louis is bent on eating it to acquire its property of immortality.
This is another book about a strong woman who doesn't remain in her station, trying to buck the system with her intelligence despite her lack of power in society. Not only does she try to convince the King, but also the Pope who is visiting and happens to be the King's cousin. Of course the Pope is convinced the sea creature is just an animal and soulless. Yves struggles with his scientific background and his allegiance to the King and the Pope. The only person who believes Marie-Joseph is Lucien, close friend and confidant of the King, who also happens to be an atheist and a dwarf.
In addition to the main plot, there are subplots involving Marie-Joseph's slave, a Turkish woman who becomes a popular servant at the Louis XIV court, and the making of a match for Marie-Joseph with the man who is the lover of Louis' brother. These with the main plot made for a very well-thought-out story that rivaled the lush alt-history style of Guy Gavriel Kay in The Lions of Al-Rassan.
The characters, like the details of the story, are very detailed and developed. Marie-Joseph is a very likeable character. Rooting for her is easy. It is also very easy to empathize with Yves, her brother, as he struggles with his duties as subject of France and Rome versus his training as a scientist. Lucien is also very likeable with details about his struggles in life as a little person in the 17th century. The other characters vary between likeable, relatable, and deplorable, but they are all extremely well drawn. Even the King and the cad are complex. There are simply no one-dimensional major characters.
McIntyre captures the opulence and decadence of the French nobility, with jewels, entitlement, and promiscuity everywhere. The story mostly takes place at Versailles but there are few times when the King must go through town and someone from the crowd pleads with him about taxes or poverty. But this was the Sun King who basically saw himself as God. There are statues and paintings of Roman gods everywhere. Specifically, there's a statue of Apollo who should be facing the direction of the sun, but instead faces the direction of the Sun King. Eventually, I felt slimy from reading about diamond encrusted shoe buckles, with peacock feathers, gold, and other jewels in everyone's clothes.
I give this book four stars out of five. It won the Nebula for 1997. It is beautifully written and extremely well researched. Most of the characters are historical, except for Marie-Joseph and Yves. Yet McIntyre breathes life into all of them and really captures the essence of the 17th century privilege. It's very different from her Hugo and Nebula winner Dreamsnake, being a period piece, but definitely worthy of an award itself.