Completed 11/28/2018, Reviewed 11/28/2018
The fifth book of the Earthsea Cycle is a collection of stories.

The theme through all the stories is the effects of magic on the wizards, witches, and townspeople affected.

It questions the use of power as well as the discrimination of women in their use of magic.

Most of the stories are great.

All have great prose, and all but one had good character development.

The one that didn't just didn't delve much into the emotions of the characters involved.

However, overall it's an excellent collection of tales from before, during, and after the events of the previous four books.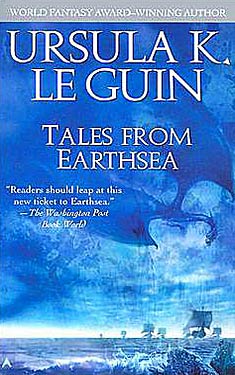 "The Finder" is a novella of the founding of Roke, the center of magic in Earthsea.

It follows Otter, a boy with magical talents, who is first taken into slavery as a finder of precious minerals, escapes, and goes on a quest to find rare books of magic.

It is told like the first three novels, but is much more concise.

I liked the story and pacing a lot, but it doesn't have much character development, even though it follows Otter through most of his life.
"Darkrose and Diamond" is a short story about a boy with a talent for magic and music.

Named Diamond by his father Golden, he is in love with a witch's daughter named Darkrose.

Golden recognizes Diamond's talent for magic and arranges for him to be prentice to a wizard rather than go into the family business.

This, of course, means that Diamond has to leave Darkrose and live with the wizard, as well as give up his music.

Then he learns that wizards are celibate.

He has to make a choice.

Does he become a wizard and forgo his loves or return home and live a mundane life?

I found this short story delightful.

The characters are well-drawn and the plot moves along very well.

It left me feeling warm and satisfied.
"The Bones of the Earth" is a sweet short story about a wizard and his prentice.

The story is told in a long flashback.

Dulse is an old wizard who takes on Silence as a prentice.

The thing about Silence is that he has already been to Roke, but left for some unknown reason.

Coming back to the present, Dulse must use Silence's help in stopping an earthquake from devastating the town of Gont.
"On the High Marsh" describes the visit of a wizard, Otak, after his long journey to a small village that is suffering from a cattle plague.

The wizard is a healer, healing the cows he can and reducing the suffering of those he can't.

He stays at the house of a woman named Gift.

A sorcerer comes to town and challenges Otak's right to be there.

The confrontation alarms the residents of the village and turns them against Otak.

Then Sparrowhawk comes to town.

Can he smooth everything out?

This was another lovely story with good characterization and an interesting plot.
"Dragonfly" is about a girl with unknown powers who wants to go to Roke to learn who she is.

At the beginning of the story, she lives with her drunken father and takes care of all matters of the family farm.

Then a wizard comes to town.

He devises a plan to get her to Roke, but since women are not allowed at the school, it must be done by concealing her womanhood.

When she gets there, she divides the Council of Nine, leading to an ultimate confrontation of old versus new.

The story definitely has the feel that it is a prologue to the next and final book.

It is more intense than the rest of the stories in this book.

It is exciting with delicious prose and good characterization.
In the edition I read (e-book), there was an appendix with some details of the peoples, history, language, and other subjects of Earthsea.

Some of it was interesting; some a little dry.

Le Guin wrote it as she was writing the new stories, kind of a summary of everything she knew about Earthsea up to that point, according to her afterword.
I give this book four stars out of five.

I really felt a connection with all the main characters except Otter from the first book.

It was a little too much like a campfire tale, lacking the emotional depth of the other stories.

The prose throughout the stories is exquisite, as it is with almost all the Le Guin I've read so far.

I've come to really love her writing, even when I find the plot or character development lacking.