Completed 5/15/2016, reviewed 5/15/2016
Sturgeon is a master writer. There's something about his prose that is truly remarkable without being distracting to the plot. "E Pluribus Unicorn" is a collection of short stories that are mostly horror, with a little SF and Fantasy thrown in. Each story is incredibly imaginative and so well written, it's difficult to move on to the next story without taking a break.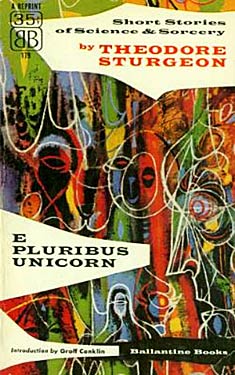 Several of the stories really stuck with me. The first was "Die, Maestro, Die". It's about a member of a jazz combo that tries to kill its leader. He tries not only to kill the man, but the sound. It's one of the longer stories and explores the question of what makes a jazz band so great. It's sort of the reverse of the usual trope of a band trying to find the sound. Instead, the protagonist is trying to find what makes the sound of a band that has already found it.
Another great story was "The Professor's Teddy Bear". It's a sort of time travel story about a boy and his teddy bear, which talks to him. The bear makes him dream of his future and coerces him into making decisions which are terrible and which eventually come true.
The third story I'd like to mention is "Bianca's Hands". It's a very twisted story of a man who becomes obsessed the beautiful hands of a mentally handicapped woman.
As usual, I don't always have a lot to say about a short story collection besides naming the stories I liked the best. I'd just like to leave it that Theodore Sturgeon is one of my favorite writers. He has a deliciously wicked sense of humor and comes up with the strangest stories I've ever read. I have another collection of his stories that I can't wait to get to. I give this collection four out of five stars.