Completed 4/29/2016, reviewed 5/2/2016
In picking this book, I have to admit that I have never read any other high fantasy besides Tolkien. I've come close with Morgan's "Land Fit for Heroes" saga and Addison's "The Goblin Emperor". This is the first swashbuckling book I've read with elves, dwarves, wizards, and Halflings. I have to admit, the main reason I chose it was because the author is Polish, and the series has only been translated in the last several years. The vague thought of reading it in Polish crossed my mind, but considering most of my vocabulary consists of colors, children's songs, and church words, I figured it would take about a year to get through just the first book. Instead, I chose to read it in English and zoomed through the first book in three days.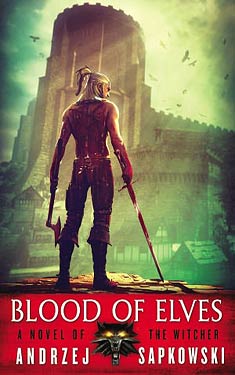 "Blood of Elves" is pretty good fare. Geralt the Witcher belongs to an order of genetically modified warriors who disposes of monsters. Suddenly, he ends up with a princess whose family was destroyed in a war and her homeland is occupied by a malevolent invader. In the years since the invasion, the alliance between all the races of earth is under stress. It's Geralt's job to keep the princess safe as the world around them slowly crumbles.
This first book is primarily concerned with the raising of the princess, Ciri, and her training in magic. I thought this book would be more about Geralt, but apparently he's more featured in the prior two books. However, this was the first one to be translated into English, so I guess I'll be reading them as they were published in English, that is, three, four, five, then one and two. From reading reviews on the books, you don't need the first two books to get this one, and I can confirm that.
Overall I enjoyed the book. The non-dialogue prose is pretty good. The one problem I have is with some of the dialogue. There are times when a character is talking a lot and then has an interjection to explain the reaction of the other person, then continues talking in response to that reaction. I find this kind of tough to read. It's as if Sapkowski was lazy and chose to not explain in prose how the other person responded. It's like, "Blah blah blah. Oho! I can see by the way you react that you're surprised by this. Well let me tell you…" It seems to dumb down the book a bit.
Despite this complaint, I still give the book four stars out of five. I do this because it kept me quite engrossed and wanting to read the next book. I really liked all the main characters, although I would like to spend more time with Geralt.