Completed 8/29/2020, Reviewed 8/30/2020
This was a beautifully written book, but I couldn't get into it.

It's about a female mountain climber on a planet where the Sublime Mount is so tall it can be seen almost anywhere on the planet.

Many religions revere it as the body of God, and ascending is like trying to see the face of God, although none but the great prophet Asam has ever made it to the top.

All the parts were there, great prose, characterization, and plot.

But for some reason, it didn't add up to a satisfying whole.

It won the Lambda Literary Award in 2019 for SF/Fantasy/Horror and has received a lot of love in reviews on the internet.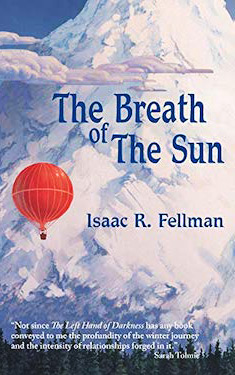 Lamat is the mountain climber.

She is of the Holoh people who live in the shadow of the mountain.

She wrote a best-selling book about an ill-fated climb with her husband and two friends.

She is approached by Mother Disaine, an apostate priest of the Arit sect to guide her up the mountain.

Like all priests she is a scientist and knows some magic.

She has used her knowledge and skill to create a climbing suit to keep the air pressure on the body high as you climb in elevation.

They go up once, as a test and conditioning run and find the suit has flaws.

They get some money from Lamat's ex-husband and work to prepare for another suit and another climb.

In the meantime, Lamat is ex-communicated from the Holoh people for her trip up the mountain which seemed to cause a landslide below, an act of God showing displeasure in Lamat's latest attempt to scale the mountain.

They go up again and Disaine returns to claim that she made it to the top.

This book is Lamat's attempt at a second book, intended only for her partner, Otile, a real tell-all to describe what really happened on the two trips with Disaine as well as what really happened with her friends.
The prose really is gorgeous.

It makes you feel like you are climbing along with Lamat on both trips with Disaine, as well as on the first publicized trip with her husband and friends.

You feel the cold and the exhaustion, the fighting and the love.

What I didn't feel was any empathy for Lamat, the main character.

She's very disaffected, and that made me keep my distance from her.

I actually felt more closely with Disaine, even though she's a liar and a charlatan.

She's colorful and believes in herself, even when she Is lying to everyone.

I also liked Otile, who leaves little footnotes in the text, as well as has excerpts from Disaine's diary which adds an interesting perspective.
The book is short, but it feels like a much longer book, mostly because of the climbing on the mountain.

It is slow and arduous and the pacing reflects that.

I think that was one of my problems with the book.

Reading was kind of slow and arduous despite having some beautiful language.

I give the book three stars out of five.

I think I would have given it four if I liked Lamat better.

Despite only a three star rating, I would definitely give Fellman another try.