Susanna Clarke
Completed 8/29/2021, Reviewed 8/29/2021
4 stars
This is a glorious collection of short stories, mostly from the world of Jonathan Strange and Mr. Norrell. It is comprised of eight stories of the Fae and magic, mostly with women either wielding the magic, or are somehow involved with it. The stories are relatively short, compared to the massive JS&MN, though one is full of footnotes like its predecessor. I really enjoyed them, reveling in Clarke's amazing prose. My only complaint is that there really isn't anything new here, except that it features women. This book is intended for those who want more of JS&MN, or for those who want a taste of Clarke's writing before diving into the that massive tome. But it's still very enjoyable. The book was nominated for the Mythopoeic Award in 2007.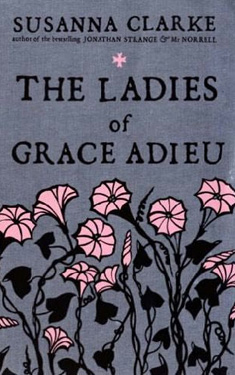 All eight stories are wonderful but I'll point out a few I really liked:
Mrs. Mabb – a play on Queen Mab of the Fae. A young woman named Venetia is about to be betrothed to Mr. Fox. A letter comes requesting her help a sick woman. Against everyone's urging, she goes. Three months later, the sick woman has died and Venetia returns to find that Mr. Fox was invited to a card game with Mrs. Mabb and has never returned. She then tries to find out what happened to him and to win him back.
Mr. Simonelli or The Fairy Widower – Mr. Simonelli is a man with no prospects of marriage or inheritance. He takes a job as a cleric at small parish in a small town called Allhope. On the way, he stops at a house where he helps a woman deliver a baby, as he has some training in medicine. The woman dies in childbirth but the baby survives. He comes to find that the father is a faerie who calls him cousin, insisting they are related. Simonelli goes to Allhope where he finds that a young woman has disappeared. He continues to meet with the Fae until he discovers his nefarious plans.
Tom Brightwood or How the Fairy Bridge was Built at Thoresby – David is a Jewish doctor. Tom is a Fae prince. Tom has many children and grandchildren who are quite unruly. Tom accompanies David to Lincoln to see a patient who may be dying. On the way, they come across a town with access across the river by ferry. Before they leave the town, they must pay a toll. Tom resents this and they meet with the man who owns the ferry. Turns out the man and his wife are childless and they beg Tom and David to fund the building of a bridge to help with commerce.
All the stories are beautifully written. Even if you don't have experience with Clarke's JS&MN universe, you will easily fall into it. The stories together give you most of the tactics of the Fae in England around the beginning of the 19th century. One even features Jonathan Strange and another features the Raven King. But as I said above, the stories all ring familiar because the Fae's tactics are all very reminiscent of JS&MN.
Another thing I was disappointed in was that all but one of the stories features a male main character. Yes, the women feature largely in the stories, but only one, which features Mary, Queen of Scots, has a woman as the main character. I guess it keeps with the feel of the 19th century English experience where women are rarely in the forefront. And the women do feature heavily. Still, I felt a little cheated considering the introduction (by a fictitious professor) indicates that this features women and magic the way JS&MN does not.
Despite these issues, I give the book four stars out of five. It is just so pleasing to read these stories because of the prose and the content. I think I would have probably enjoyed it more if I read it soon after its predecessor, as I was wishing that gigantic tome wouldn't end. This is like eight little desserts after the main course. Or conversely, like eight appetizers if you hadn't read it JS&MN yet.