Completed 6/18/2016, reviewed 6/21/2016
"Storm Front" is the first of The Dresden Files books. I had been meaning to read some of these books for a long time, but never quite got around to it. Now it's the October selection for Book Club. I didn't mean to read it so early, it's just that I was house sitting for my mother-in-law, she had the book on mp3, an mp3 player, and I wasn't into reading anything else I had brought with me. It turned out to be a fantastic experience. First of all, it's easier to listen to a book when you're doing something other than driving. Secondly, the book lived up to all the hype that I'd heard.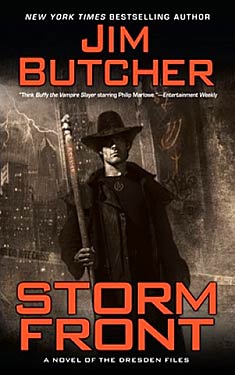 Harry Dresden is a wizard-for-hire in Chicago. He's called by the police to investigate a murder with black magic written all over it. Shortly after, he takes a private missing persons case because, well, he needs the money. He may be a wizard, but he's not exactly rich. While trying to solve these two cases, Harry finds out that his life is also in mortal danger. A dark, gritty, noir novel, with lots of tongue in cheek humor, this is perhaps the first urban fantasy that I really enjoyed.
While I enjoyed the book itself, the experience was amazingly enhanced by the narrator, James Marsters of Buffy fame. He read it like the narrator of a 1940s black and white Bogie movie. Written in first person, Marsters drew me into Dresden's personality and kept me locked into the world that Butcher created. I particularly liked the breath-work. Marsters sighs a lot as he's reading Dresden, adding an extra dimension to the character.
One of the most fun parts of the book is Bob the skull. He's a spirit that lives in a skull in Dresden's sub-basement laboratory. He's been around for hundreds of years. Bob helps Dresden with making potions and other magical activities. Marsters reads him rather foppishly, making all the interactions with him quite humorous. There's also a faerie named Toot-Toot who helps Dresden, although the scene with him is rather short. I expect Toot-Toot shows up more in later novels as I understand the fae aspect grows in importance as the series progresses.
The book is not particularly deep or profound, just terribly fun. As soon as I was done, I wanted to listen to more. I give this book four out of five stars. I give James Marsters' performance five stars. I'm sure reading the book is great, but listening to this performance was a tremendous experience.