Victor LaValle
Completed 12/27/2022, Reviewed 12/27/2022
4 stars
I don't read much horror these days unless it falls under the guise of fantasy, which it sometimes does. This book was such a horror/fantasy and it was terrific. It was nominated for a slew of awards in both horror and fantasy, winning the 2018 Locus Award for Horror, August Derleth (British Fantasy) Award, and World Fantasy Award. It's about changelings, children that are stolen from their parents by faeries or other mythical creatures and replaced by something that looks like the child but isn't. In the modern world, a mother claiming this would be diagnosed as having severe post-partum depression or the child diagnosed with some behavioral problem. And that's what we find in this modern changeling tale until the mythical is found to be factual.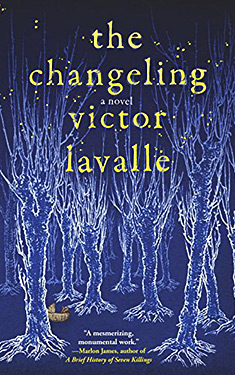 Apollo Kagwa is a rare books collector in New York. He was raised by his mother, a Ugandan immigrant to the U.S., when his father disappeared when Apollo was four. He marries Emma and they have a son, Brian. Apollo takes care of Brian while Emma recovers from childbirth. However, she appears to be suffering from post-partum depression and the relationship between the couple is strained. Then she commits the unspeakable and disappears. When a stranger approaches Apollo with information that both Emma and Brian are alive, he jumps at the chance to find them. This leads him to strange encounters with an island of angry women and children, secrets in a cemetery, and the only forest in New York City.
I was really impressed by the prose, perfect for a horror novel, just the right combination of description and dialogue. Nothing too flowery, just enough to get you in the mind of the main character as well as paint colorful and realistic boroughs of New York City. Reading the book was difficult at times, knowing what a changeling is and being able to see what's coming. I often had to put the book down and chill.
The tale is told from Apollo's point of view, though the narration is third person. Apollo is a complex character, longing for the father who disappeared, having strange nightmares, becoming the father he never had, and grieving like only a father can over the death of his child. It was easy to empathize with him as he went through the wide spectrum of emotions. Patrice, his friend who is also a collector of rare books, was also interesting as a secondary character. A war veteran and computer whiz, he provides good support through the story. And when you find out who the bad guy is, he makes your skin crawl.
I thought it was interesting that the main characters are black and middle-class, a scenario I haven't come across much in genre fiction. I think that's why I like authors such as N.K. Jemisin, Nnedi Okorafor, and Craig Laurance Gidney. Their stories that take place in contemporary settings have good representations of black people with average lives, but of course in extraordinary situations.
I give this book four stars out of five. It's a real page turner until you have to walk away from the intensity. The ending is something else too, coming out of Scandinavian folklore. I don't know if the author always writes genre novels, but I'd definitely read him again.