Completed 3/11/2016, reviewed 3/11/2016
The more of Jo Walton I read, the more I think she is one of the best writers in genre fiction today. "My Real Children" is about an elderly woman with Alzheimer's disease. She forgets a lot of things especially the recent past and she is often confused, but remembers most parts of her life. The problem is she remembers two distinct pasts and can't tell which one is real. Her children from both her pasts come to visit her regularly in two different hospitals which keeps her wondering which life is her real life and which children are her real children. It makes for a wonderful novel of alternate history, both personal and global.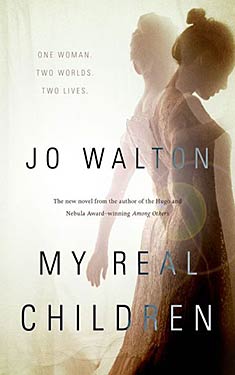 Patricia Cowan remembers only one youth. The split seems to happen when her fiancé asks her to marry her suddenly. In one history, she says yes, in the other she says no. Her two lives divulge from there. Her marriage is loveless and abusive. She has four children with him and doesn't work. In her other life, she falls in love with a woman, together they have three children. She works as a travel writer and despite many obstacles, has a wonderful love-filled life.
These two stories told in parallel would be a wonderful story in itself, but the alternate history doesn't end there. World events are also different in both time lines. You would think that the reader would be able to guess which life is real based on the historical events in each life, but Walton comes up with two alternate histories, so readers can't tell which is real either. Where her life is full of marital anguish, the world is a relatively nice place to be. Where her life is better, the world is dangerous and violent. It's a great device and works well to keep the reader from coming to any conclusions on their own.
The highlight of the book for me was the prose. It was simply beautiful. Walton was able to describe the lives of Patricia in alternating chapters with overlapping time frames and yet keep the story and emotional impact of each separate and easy to follow. Patricia lives a long time, so there are over sixty years to cover twice in only a little more than three hundred pages. Walton does it and still delivers an emotional tour de force. I know "tour de force" is rather hackneyed, but it sums up well how it affected me.
I save five star ratings for books that I feel are excellent but affect me at an emotional level in some way, whether it's tearing up or feeling emotionally exhausted or exhilarated. This book did it for me. Sitting down to read it every evening was a pure joy, even the devastating subplots. I highly recommend this book, even for non-genre readers.