Rebecca Roanhorse
Completed 5/9/2021, Reviewed 5/9/2021
5 stars
I know it seems like I've been giving out five stars more than one would think would be possible, but I feel like I've been coming across some really terrific books that I just don't want to put down at the end of the day. This one is the tremendous first book in a new epic fantasy trilogy called "Beneath Earth and Sky". It is set in a pseudo-pre-Columbian world with all the richness you'd expect to find in a pseudo-European fantasy. It has magic, gods, mermaids, and court intrigue, all with South American flavor. The book was written by a Native American woman who has already won the Hugo and Nebula for shorter fiction, and is now nominated for her second of each of these in the novel category. I loved this book, and can't wait for the next installment to be published.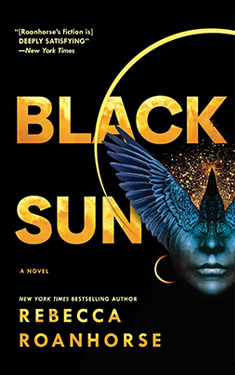 The plot is about the preparation for the ceremony of the Convergence, when the winter solstice sun is eclipsed by the moon. Nara, the Sun Priest, is preparing the priestly court for the Convergence with fasting and isolation. But there's an attempt on her life followed closely by the death of the Matron of one of the four ruling houses. This disrupts the preparation and causes dissension amongst the major priests. For Nara is a modernist, trying to maintain and enhance peace among all the houses. The traditionalists think she should show more force in trying to maintain adherence of the houses to the law. A second plot follows Serapio, a young man who was blinded by his mother to make him a vessel of the Crow god. As its avatar, Serapio could fulfill the prophesy to destroy the priests and regain autonomy for the "religious" Crow House. This plotline goes back and forth in time with Serapio growing up under tutors and coming into his godhood and with his three-week journey from his home to Tova, the capital where the priests are. The prophesy states that there he will kill the Sun Priest and free the Crow people.
Yes, the plots are rather substantial, but Roanhorse does an excellent job of telling the story and keeping it all organized and readable. Through these two main characters, she builds a rich and creative world. It comes across as very complete society, as rich as Lois McMasters Bujold's Chalion series, for instance. It doesn't fall into the standard tropes of a primitive South American society, either Incan or Mayan.
The characters are amazing. I deeply empathized with both Nara and Serapio even though their destinies pit them against each other. Nara is a progressive amongst a ruling body of traditionalists. She wants to make up for past horrors perpetrated by the ruling priests, specifically, what is known as the Night of Knives, which slaughtered many of the Crow House. She has many enemies within the priesthood as well as from the Crow cult whose prophesy Serapio fulfills. Nara is a good person in a bad situation. Serapio is also very genuine, but knows what he must do as avatar. It causes him conflict. We feel much sympathy for him as he is thrust into his role by his mother when she brutally forces him to stare at a solar eclipse when he is eleven, sews his eyes shut, and carves an image of the Crow into his chest. Blinded and ignored by his father, he is tutored by abusive teachers to help him grow into the avatar and accept his destiny.
There's another great character worth mentioning, Xiala, a bisexual woman and ship captain. After a night of drunken debauchery that she can't remember, she's saved from prison to command the ship to bring Serapio to Tova to fulfill his destiny. She doesn't know his mission, but is promised great pay if she can get him there in time. But she has a secret, she is a Teek, who others believe is only half human, the other half fish. And she must command a crew of superstitious sailors, which requires great leadership. But she is flawed, and perhaps more human than most of her crew.
I give this book five stars out of five. I could not find anything wrong with it. The prose was perfect, the characters interesting and relatable, the world-building phenomenal. Even the ending was terrific for the first book of a trilogy. This was one of the books that I just did not want to put down and regularly fell asleep reading because I didn't want to stop. And I wish I didn't have to wait for the next book to come out. Fortunately, I have her last double award nominee to tide me over, which is supposed to be terrific as well.