Robert Rankin
Completed 8/25/2023, Reviewed 8/26/2023
3 stars
This book lost in a runoff vote for my book club. It was cheap so I got it. It was fun, but not uproariously funny. The ideas are great, like the title. It had a lot of good running gags. But in the end, I felt kind of empty, sort of like eating a big puff of cotton candy. It's sweet and fun, but in the end, it didn't fill you up at all. I was glad I read it, but I wouldn't go out of my way to read another book by this author.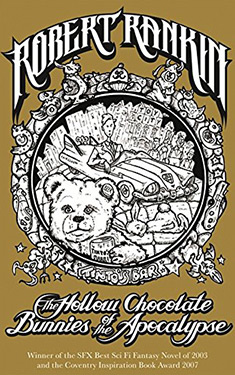 Jack is a farm boy who leaves for the big city. In this case, it's Toy City, formerly known as Toy Town. It's grown immeasurably since its early days. When Jack gets there, he finds it inhabited by sentient toys. He comes across a teddy bear named Eddie who was an assistant to the great private investigator Bill Winkie. Winkie is missing so Eddie has taken up his latest case, finding the serial killer behind the murders of famous nursery rhyme characters. The two team up to solve a mystery that could mean the destruction of Toy City itself.
Despite being pretty fluffy, the characterization was pretty good. Jack and Eddie are well developed characters. Eddie is constantly trying to be taken more seriously than a teddy bear normally would be. And he has a word-relationship problem so he can never complete a simile. He can only say "as good as" or "as crazy as", never completing the thought. Jack is also well thought out as a thirteen year old doing adult things. Some of it's a little questionable, like getting drunk with Eddie. I found that disturbing. But overall, I liked Jack. He's read all the Bill Wilkie pulp detective novels so he knows how to play this PI game better than Eddie.
What I liked most about this book was that it was rather fun. It didn't take itself seriously. It was a lot like Robert Asprin, although I thought Asprin was better. It's a bit Monty Python-esque, just not quite as good. The author is British after all. Some of the jokes and puns fall flat, but others work. I give this book three stars out of five.