Rebecca Roanhorse
Completed 6/27/2022, Reviewed 6/28/2022
3 stars
This was Roanhorse's first novel. It's about a monster hunter in a post-apocalyptic world where both gods and monsters roam what's left of the world. I've read several monster hunter books this year, and this one is good. It was fast-paced, inventive, and set in the remnants of the Navajo Nation's reservation, one of the few places to survive the global climate catastrophe. But something about it didn't quite gel for me. The characters were well developed, but I didn't feel much empathy for them. I plan on reading the sequel, and I'm hoping this experience with them sets me up for a better time with them in the next book. This one was nominated for a slew of awards, including the Hugo and the Nebula.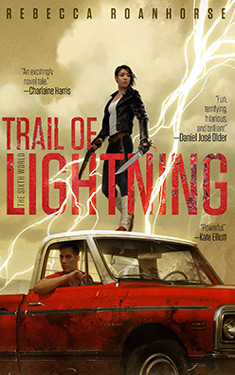 Maggie Hoskie is the monster hunter. At the outset, she saves a little girl from being eaten by a monster, a sort of zombie-like humanoid. Unfortunately, it gnawed at her throat, which would make her a monster as well. So Maggie kills her to spare her the agony of monsterhood. Shortly after, she pays a visit an old man to ask for his help in identifying the monster and its origins. The man doesn't has some ideas, but surprisingly asks her to take his grandson as her partner in finding the source of the monsters. The grandson, Kai, is about Maggie's age, extremely handsome, and supposedly a powerful medicine man in the making. She reluctantly agrees. Together Maggie and Kai search the reservation for the witch that's creating the monsters, meeting a trickster god, biker gangs, and wealth of other colorful characters along this dark and dangerous path.
Maggie is great as the knife wielding and magical firearm bearing Native American loner. She has a lot of demons and is constantly questioning whether she is a monster herself. She has the gift of her clan, which is like a superpower that consumes her when she or someone else is in danger, transforming her into a powerful fighter and killer. She's not too pleased when she has to take Kai along, although he seems to be able to get her out of potential scrapes with his charm before she turns into her killer aspect. Of course, there's sexual tension throughout, though Maggie is able to fend it off by dwelling on her terrible past and the guilt that comes from all the killing she's done. Kai is a little more likeable, though his background is dubious. In fact, neither of them willingly tell the truths about their pasts, although the book is in first person Maggie, so we learn about her past along the way.
I like many of the minor characters, like Grace the bar owner, her paramilitary children, the trickster god Coyote, and Kai's grandfather. Through Maggie's interaction with them, I came close to having some empathy for her, but never quite got there. All her brooding and baggage got in the way, just as it did for her relationship with Kai.
I thought the world building was really the star of this book. She sets up a world consumed by a quick global meteorological event compounded by a recurrence of the New Madrid mega-quake in the central US. Most of the coasts and a large section of the American interior are under water. The Navajo nation has built a wall around itself and basically has become self-sufficient. Of course things like alcohol and coffee are among the things in short supply. There isn't a lot of detail about the what's left of the world and exactly how it all happened, but it was enough to satisfy me and my love of the disaster-movie genre.
The prose was really good, as was the story telling. I followed it quite well, never losing the plot, even though it took me nearly a week to get through it. I also really liked the weaving of Navajo mythology with a post-apocalyptic story. It's one thing to tell a fantasy story of an alternate past with non-European mythology, such as her later book Black Sun, and quite another to mix such mythology with events in the near future. I just wish I was able to relate more to Maggie and get inside her feelings, not just her head. I give this book three stars out of five.