Completed 9/21/2014, Reviewed 9/21/2014
I was lucky enough to win an ARC (advanced reading copy) of "The Bone Clocks" from Tor, the publisher, on its website. I wasn't sure how I was going to fit it into my reading schedule, as I still had eleven books to read this year to complete all my challenges on the Worlds Without End site. But I wanted to read it because my partner had been recommended Mitchell by a friend, and because Mitchell was coming for a signing at Powell's in a few weeks. And of course, I HAD to read it before getting it signed! So I started. I wasn't sure what I was in for, but when I finished it, I cried uncontrollably for about five minutes.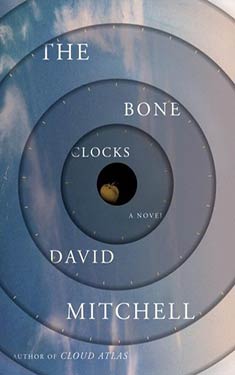 The story takes you through the life of Holly Sykes, who as a child heard voices, the Radio People, and was frequently visited by a mysterious beautiful woman. In 1984, years after the voices and visions have disappeared, she's grown up to be a bratty British teenager who runs away from home to move in with her adult boyfriend. When she finds him in bed with her best friend, she continues running, adamant about not letting her mother win this latest battle. She happens upon a strange old woman by the river asks her if she'd promise to give her asylum if she needed it. Confused, she agrees, and begins a journey of strange coincidences over the next decades that lead her into the middle of a fantastical war between rival immortals.
"The Bone Clocks" is a story about Holly, but it is told from the point of view of multiple characters. All these characters have some connection with her and come with their own back stories and subplots, but they masterfully keep the main plot moving forward. I have to admit that the plot development through the first several hundred pages is rather slow. You only get to see glimpses of the supernatural events, and it is rather difficult to figure out what's exactly going on until you're nearly halfway through the book.
This may make it seem like the first half of the book is boring. In fact, it absolutely is not. The writing is brilliant, change of voice between narrators is masterful, the characters are fully developed, and the pace never drags. I was completely engrossed with each narrator, their trials and tribulations, and how they intersected Holly's life decade by decade.
I only had two criticisms, and I think they are minor. The first is that the book is very Anglo-centric. I understood quite a few of the British slang and cultural references, but I know I missed an awful lot. I'm sure the same is true in reverse, as Brits try to read US authors that rely heavily on referencing the current American culture. So…minor. The second criticism is that the ultimate battle between the immortals reminded me of something Clive Barker would write. Specifically, I heard echoes of "Imajica". But as the suspense built, I dismissed these thoughts. Mitchell is an incredible story teller in his own right. Even if some elements were similar, Mitchell's execution is brilliant, and this book stands on its own.
Lastly I have to admit I was shocked at how involved I became in Holly's life. Meeting her decade after decade through the eyes of different people threw me at first. But when she returns as the narrator in the last chapter, I didn't want her story to end. I was completely invested.
And as I stated at the beginning, I cried my eyes out at the end. This of course necessitates a five out of five star rating. I give four stars to an excellent book, when I can say, "Hey, that's a great book!" I give five stars to a book that profoundly moves me, when my response is, "Oh…my…god!" This was it. I don't read much new literature, relying on my local library to satisfy my SF and Fantasy needs. But for 2014, I believe this is the book to beat.
Addendum (written 9/28/14): I saw Mitchell at Powell's a few nights ago. He quite a funny person, and did a great job reading from his book. During the Q&A, he admitted that he much prefers writing novellas. Since there isn't much market anymore for the novella, he uses his strength to write groups of novellas with a common thread to create a full book. So that's his modus operandi, which explains the form of "The Bone Clocks". I read another blogger's review criticizing the book as feeling like a collection of novellas. So I guess he hit the nail on the head. This revelation definitely helped me make more sense of the book, and made me appreciate its complexity even more.