13 Stories by Damon Knight
Completed 8/23/2014, Reviewed 9/1/2014
"Turning On" is a collection of short fiction by Damon Knight, the author after whom the Science Fiction and Fantasy Writers of America named their Grand Master award. I've read in several places that his forte was short fiction, so I decided to read this book. And in general, it lived up to my expectations.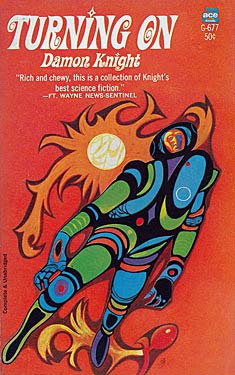 What I love most about short fiction, especially in older science fiction, is that it's built around a single twist, moral, or in Knight's case, a pun. The whole story drives to that one point. In this collection, all those single points were great. Almost all of them were profound, even when scatological in The Great Pat Boom, a story about an industry built up around selling cow patties to aliens.
What I don't love about short fiction is reviewing it. So I just mention some stories I like, some I didn't. I loved "Eripmav", about a vegetarian vampire, even though the final pun was a groaner. "Maid To Measure" was also good for a guffaw. "To The Pure" is a despairing tale about a man losing his wife to an alien. "Auto-da-fe" was wonderfully tragic. It had the last man on earth controlling the last dogs on earth. "Night of Lies" was also tragic, about surviving a holocaust.
I didn't really dislike any of the stories, although there was one I didn't quite get. "A Likely Story" was an odd tale of a Nebula Award-like Christmas Party with a science fiction twist, almost meta-fiction. The best part of this story is trying to figure out the authors Knight is lampooning with the slightly distorted names, like Akimizov (Asimov), Preacher Flatt (Fletcher Pratt), and L Vague Duchamp (L Sprague de Camp). But the strange happenings at the convention fell flat for me.
After reading the whole collection, I wanted to run back to library and get every book they have by Knight. (In the case of my local library system, they only have six. Like many of the classic science fiction authors, they only have a few and generally not their best or most famous works). The enjoyment I found with this collection made me decide to give it four out of five stars. It's well worth seeking out.