Mira Grant (aka Seanan McGuire)
Completed 9/5/2014, Reviewed 9/13/2014
Grant has written a terrific yarn about zombies, politics, and media. It's fast, exciting, and personal. This is probably the fastest 600 pages I've read in a long time (three days). Reading this after a couple of very literary novels, and while taking a break between chapters of a terrible book, "Feed" was a welcome breath of easy pop/best seller-SF air.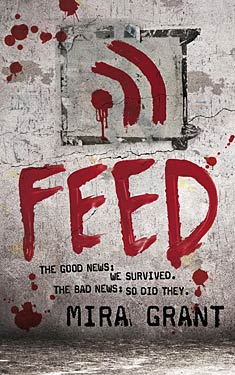 Not really a genesis novel, the events take place about a generation after the zombie apocalypse. Georgia (George) is a Newsie, a blogger who reports straight news, with little or no emotional content. Her brother, Shaun, is an Irwin, a blogger named after the Australian croc personality because they entertain their readers by poking sticks at things, in Shaun's case, zombies. Buffy is a Fictional, a blogger who writes fiction based on real events, and she writes poetry. Together, the form the core of an internet journalist team who report the news about life in the zombie present. Their team is chosen by lottery for the opportunity to be the official bloggers of the campaign of Senator Ryman, a potential presidential candidate. On the trail, they uncover a conspiracy that could rock the country and threaten their very lives.
At its heart, "Feed" is a journalist novel, sort of a first-person "All the President's Men" with zombies thrown in. The team's careers are based on the how blogging has become the standard for reporting the news, in all its forms: straight, investigative, and entertainment. George's mission is to report the raw truth, with the hopeful side-effect of getting good ratings. As Ryman's campaign bloggers, they reach a new pinnacle in their career, and like many good journalists, they acquire some enemies.
The main characters are great. I had some trouble with their likeability at first, George being brusque, Shaun being out of control, and Buffy being religious and a hopeless romantic. They were a little two-dimensional. That dissipated quickly as the action built and the conspiracy unwound. Soon I was deeply involved with them, their relationships, and their adventure. The presidential candidates are a bit too stereotypical: Ryman is the honest politician with a heart of gold while Tate is the gun-totin', Bible-thumpin', wimin and youngin' hatin' xenophobe from Texan. But it was easy to dismiss these criticisms because the ride was just so damned exciting.
One of my favorite points about the book is that it makes director George Romeo, of the "Living Dead" movies fame, a prophet for his vision of zombies. They stagger, they eat the living, and they're killed by destroying the brain. McGuire adds her own twist on his zombie mythology. Her take is that the phenomenon was caused by two "cures" that crossed and mutated. This new virus infects all creatures over forty pounds, but the pathogen does not take over the body until it dies, or is otherwise activated, as in being bitten by a zombie, or exposed to a large does of it. It affects human by about the age of seven and large animals. People don't eat meat much anymore, and only cats are left as pets. Life goes on, but with a shadow hanging over the human race, knowing that unless proper precautions are taken, a zombie outbreak can occur anywhere, anytime.
Zombies are really in right now. The "Zombie Apocalypse" has become as much a part of our consciousness as the "Red Menace" was not too long ago. A lot of people will admit they are bored with it, or downright hate the zombie craze, including the people from my SF book club. After reading "Feed", the majority of the group agreed it's fun, exciting, and a worth the read. I was shocked by the positive response. If you're a doubter, put aside your bias and give it a chance. I loved it, and I think most people will too. Four stars out of five.