Patricia A. McKillip
Completed 11/28/2021, Reviewed 11/29/2021
4 stars
Another great tale about the world of faerie. Here, people try to keep the faerie realm confined to itself through the stitching of a sewing circle. The stitching represents closed boundaries, like dams on magical rivers and thorny briar blocking entry to the woods. It's an interesting take on protecting normal people of our realm from accidently wandering into faerie realm, or worse, being stolen and replaced with a changeling. McKillip is a terrific writer of prose, as I've just found out recently, and she also can handle great dialogue and suspenseful action. This book won the Mythopoeic Award in 2007.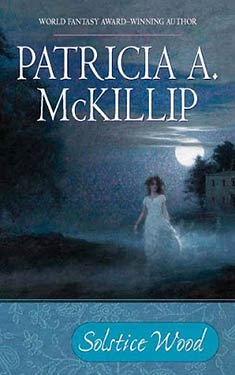 Sylvia is a young woman who finds out the grandfather who helped raise her has died. She only plans to go back home for a few days. Her forceful grandmother, Iris, assumes she'll stay longer. Once there, she learns the truth about the monthly sewing circle, aka the Fiber Guild, at her ancestral home, Lynn Hall. After the funeral, her nephew Tyler is taken by the faeries and exchanged with a changeling. Then it's up to Sylvia and the sewing circle to get Tyler back and reestablish the stitches that keep the faeries out of our realm.
This book is much different than Something Rich and Strange. It has more action and dialogue, but it still sets a mood with its terrific prose. McKillip is a wonderful writer. I look forward to reading a few more of her award-winning books from my current challenge. This book is actually a sequel to a much earlier book that sounds like it describes the origins of the Fiber Guild by Sylvia's great-great-great-grandparents. This book however stands on its own very well.
The narrative is in first person by five different characters: Sylvia, Iris, Tyler, the changeling, and a guardian of Lynn Hall named Owen. At first I was worried by there being so many voices, especially with this being such a short book (under 300 pages), but McKillip handles the differences very well. Each voice is very distinct, and each character is very interesting. Sylvia is a headstrong woman who doesn't want to get stuck in her hometown by the equally headstrong Iris. Tyler is a believable teen who misses his deceased father. Owen has a secret love that he's afraid would shatter the trust of Iris, and the changeling is wonderfully peculiar. There are quite a few other characters in this book and most of them are well developed as well. There are a lot of women in the Guild, and they run together a bit, but they are each very well defined at their introductions.
The worldbuilding is awesome as well. The Guild concept reminded me a little of "Weaveworld" by Clive Barker, a horror novel from the about thirty years ago where people were magically woven into a rug for safety from terrifying danger. But this was different enough to satisfy me.
I give this book four stars out of five. I found it believable and suspenseful. McKillip has quite an imagination and tells a great story. She also does well with different characters and voices. I'm amazed that I went so long (eight years, whew!) in my reading of fantasy and sci fi that I never came across her, even though I knew she was prolific and won many awards.