Ursula Vernon
Completed 11/1/2021, Reviewed 11/1/2021
5 stars
This book is a Graphic Novel series of six volumes, brought together with some additional appendices in one massive 800-page edition. The series won the Mythopoeic Award in 2013. I believe it's the only GN to ever win the Mythopoeic. It also won the Hugo for Graphic Story. And it is a delight! The black and white drawings come alive in this story about an atheist wombat engineer who loses her way and finds herself in a land of mythology and religion. She ends up in a quest along side friends who were once enemies. It's funny, thought-provoking, light-hearted and intense. I absolutely loved it.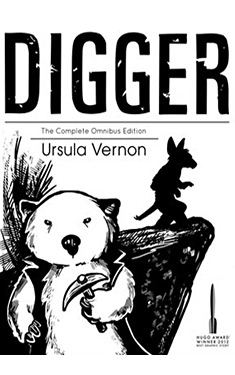 Digger is digging underground when she comes upon a gas pocket that causes her to hallucinate. She keeps going and going until she recovers her senses. She realizes she is completely lost and decides to dig upward. She comes out in a temple with a large wooden statue of Ganesh that speaks to her. She wants to find her way home, but the statue does not know where her home is. She leaves, trying to find her way and comes upon a hyena who has been exiled from his tribe. She convinces him not to eat her and they actually become friends. Along the way, she also meets a small naïve demon she calls Shadowchild, an oracular slug, the tribe that the hyena is from, and an order of veiled priests. Eventually, Digger ends up on a quest to find a way to kill a nearly dead god.
The book is very long and has lots of twists and turns. At six volumes and twelve chapters, it's simply packed with plot. My above plot summary barely touches everything Digger is up against. But the writing is tremendous. It keeps you going even when it gets philosophical and theological. It's not heavy-handed either. It flows quite naturally throughout the book.
Digger is a wombat and there are other talking animals as well. But they aren't just anthropomorphic characters, that is, they are not just people disguised as animals. The wombat has wombat characteristics to her personality, the hyenas likewise. There are humans and they are very human. All the characters are relatable. Digger is pragmatic and industrious, and has a knack of turning dangerous people into friends. She is tremendous, but Ed, the exiled hyena steals the show. He's a tattoo artist. He speaks primitively, compared to the other hyenas, but is friendly and loyal to a fault. He always offers Digger warrior tea and listens to Digger's frustrations. Ed is a gentle soul and simply lovable.
One of the great things about this book is that there are so many strong, multidimensional female characters, yet the male characters are also great. There's only one bad guy in the bunch, aside from a few demons and the guardians of the nearly dead god. The characters have flaws, too. They are not all Mary and Gary Sues. Perhaps most significantly, there is a young woman who joined the priesthood at a young age but now suffers from crippling anxiety. But even though she can barely function in dangerous situations, she is on a hero's journey as well. The choices Vernon made in designing these characters work amazingly well.
The world that Vernon created is stupendous. There are gods we know, gods we don't. The hyenas are based on real-world indigenous Brazilian tribes and their culture and mythology that Vernon learned about in a college course. There are also trolls which are very non-Tolkienian. And they fit right into this amazing world. It's so creative, it still blows my mind as I write this review.
I give this book five stars out of five. The story is beautiful and the art is expressive. I fell in love with Digger, Ed, and the others and was devastated by a death near the end. And despite the 800 pages, I wanted the book to keep going. Fortunately, there are special features at the end, including a short story about the carver of the statue of Ganesh and guides to moles and trolls. So you get a little more after the story is done. But this book really had me from the start and found a special place in heart. I highly recommend it if you can get your hands on it. My county library system had it, for which I am truly grateful.