Completed 5/27/2017, Reviewed 5/29/2017
I first read "Brave New World" in high school. I thought it was an amazing book. The cloning, the drug use to cope with issues, and the free love all just blew my mind. I read it for an English class with the assignment of critiquing a book of our choice. It was freshman year, and I couldn't get the book report format out of my head. I think I got a B on the assignment, but I always remembered that I didn't do the homework correctly. Now, forty years later, I'm critiquing books once or twice a week. And this time I've come around full circle to an old friend.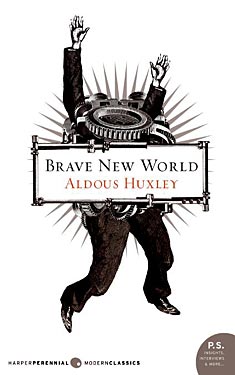 The book is about a future dystopia. People are no longer born. They are cloned and decanted. There is a caste system that creates five different types of people depending on how much oxygen starvation and alcohol immersion the embryos received. The caste system satisfies the need to have people of different levels performing all the different tasks of modern society, from the uber-privileged to near non-functional. All people however are conditioned to love their class, to consume as much as possible, and to use a legal drug called soma to cope with unpleasant things.
The plot follows several people who are Alphas, the highest caste, and their misadventures in the dystopia. Specifically, Bernard and Lenina take a trip to a Zuni reservation, a "savage" land outside their modern world, and find an upper caste woman who was left there 18 years ago, and her naturally born son. They bring Linda and John back to society. Everyone wants to meet John the Savage. He becomes the toast of London. No one wants to meet his mother because she has become old, ugly, and because being a mother is a vile thing in this society. Of course, a clash of cultures ensues.
This read through, I still find the book to be quite astonishing. While we don't clone people, yet, I believe we do a lot of social conditioning that keeps people in their places. Sometimes I think we might as well have a caste system. I'm not cricitizing people for what they do, but rather the society at large that treats people of different skill sets poorly, and even more apropos to today's headlines, people of different ethnic backgrounds.
In other issues brought about in the book, one can liken the use of soma to the burgeoning movement to legalize marijuana. From a different and perhaps a more profound perspective, maybe today's soma is anti-depressants, government-approved ways to cope with the miseries of life today.
The one thing I think is different is the free love issue. While there is promiscuity and always has been, I believe that unlike the book's government approved attitude toward sex, our society has a veneer of puritan or Victorian mores. That's perhaps even worse because it creates a society of shame rather than a healthy attitude toward sex. But of course, talking about sex is a mine field waiting to happen. What I do believe about the book is that the laissez-faire attitude reduces the significance sex, which is already reduced by the use of cloning for reproduction.
I would like to have read Brave New World Revisited, Huxley's essay from the 50's where he compares his predictions in the novel to where modern society had come. That's because, as you can see its effect on me, the book draws the reader into comparing it to their time. I easily forgive the flaws of the book because I'm spending so much time comparing it to what I perceive is society now.
As a book, it holds up very well. It is still very readable, for the most part. I have to say I had a hard time with some of the exposition. Most significantly, the first part of the book is a little dull. It explains the use of cloning by sending a class of new doctors through the cloning center. I found it hard to follow at times, not because of the science, but because of the way it was written. I also found the big exposition at the end a little hard to read. There it was the philosophy that was tough to get through. Aside from these two areas, though, the book is an easy read.
The character development is decent. I dare say it was easy because so many of the characters are quite shallow and naïve. Even Bernard, who is ridiculed for looking at life more deeply than everyone else, is still comparatively shallow. Only John the Savage looks at life deeply, keeping him at odds with everyone else. And John is naïve as well, but in a different way than that of the society around him. That is what causes the conflict.
One thing that I find rather amusing at this point is the naming of the characters. A lot of people are named after communists. I think it is funny because I can see a society like this be the outcome of capitalism gone mad, the ultimate consumerism, a complete throw-away society, rather than communism. In fact, it sort of reminds me of the Science Fiction film, "They Live", where everything has subliminal messages in it to consume.
I had a tough time deciding how many stars to give this book. I settled on five because I still believe it is a classic of science fiction. It forces the reader to reflect on what a utopia is and is not, and what direction society is moving. As I mentioned earlier, the book makes me overlook its flaws to focus on its relevance. I do think the book has a few flaws, but it is one of the best dystopian novels of our time.