Completed 5/6/2017, reviewed 5/7/2017
There's something about Jemisin's writing that is absolutely amazing. Even though this book suffers from second book in a series sag, the writing is still brilliant and some subplots that seem, well, plotless, are still wonderful to read. The book is a continuation of The Fifth Season, with the adventures of Essun, an orogene. As I noted last time, think of her as an earth bender, for those who may be familiar with the "Avatar: The Last Airbender" animated series. The book also follows what happened to her daughter, Nassun, who from the first book, we know was kidnapped by Essun's husband after he killed their son. Essun is still searching for Nassun. By the way, since this is a second book, there are some spoilers from the first book, but I'll try to keep it minimal.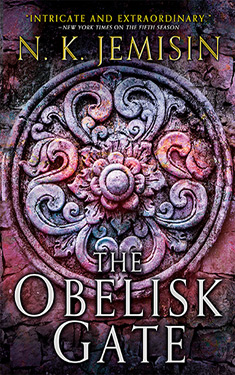 The most masterful part of this book is once again the person of the narrator in each section of the book. There are short first person segments. The story of Essun is told in second person. The story of Nassun is told in third person. While still a difficult way to read a story, the second person parts are very natural. While I think it is only the third book I've read employing second person (though I've read a couple of short stories employing it as well) I have to say it is the most amazing writing I've ever experienced. Only occasionally did it bog me down, sometimes losing my stamina for maintaining the story.
Like the first book, there is a mystery to who the narrator is. This time the narrator is a different person from the first book. I think it's revealed about halfway through the book, but I believe I missed it and didn't figure it out until the end. But figuring out who the narrator is helps explain a plot hole, that being the use of the word "magic". In Essun's story, we find out that "magic" is a secret word from the past that is no longer used today. Yet it appears in Nassun's narrative. But once you find out who the narrator is, you get that Nassun can think about things in terms of magic because the narrator is a little omniscient.
Essun and Nassun are both wonderful characters. Surprisingly, they are both anti-heroes. As much as you want to like them, you can't completely because they do harm with their powers. Nassun really stole the show for me in this book. Essun's story line of settling in an underground community was a little slow. Nassun's story line of going on the lam with her murderous father is much more riveting. It was very interesting following her process of loving her dad to realizing that he is anathema, trying to get her cured of her orogene powers rather than supporting her growing into them. Of course, the father is only reacting as badly as most of the population does toward the orogenes. It is why he killed his son. But she is daddy's little girl and he's going to get her fixed.
As with the first book, this one is very diverse, with all sorts of persons of color and different orientations. There's even a different race, the stone eaters, who we don't even know for sure that they're human, but are perhaps more human than either "stills" or the "roggas". The stone eaters come more into play in this book as well with Hoa playing a larger role.
Even though I note that there is a sag to this book, namely in the slowness of the buildup of Essun's plotline, I give this book four out of five stars. It is the second of perhaps the most imaginative series I've ever read.