Completed 5/13/2017 Reviewed 5/15/2017
Another wild book from Philip K Dick. The world has become hot and crowded. The UN drafts people to relocate to other planets and moons to alleviate the population and environmental crisis. But life on the alien worlds is tough and degrading. To avoid despair, people use a drug called Can-D which creates the illusion that you are on earth via a tableau of Barbie- and Ken-type dolls and accessories. Palmer Eldritch returns from a ten year trip to Proxima Centauri with a potential rival product called Chew-Z which doesn't require the tableaus. The makers of Can-D are threatened by Chew-Z, but find a much more sinister relationship between the new drug, its users, and Eldritch.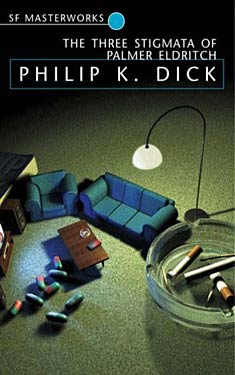 The book is short, only about 230 pages, but it is chock full of weirdness. The above synopsis just gives you a taste of the plot. There is so much going on, like the main character Barney Mayerson who is a procog, that is, he can see the future, who works for the Can-D company predicting what products will become good sellers for the Perky Pat tableaus. He's having an affair with another precog, but regrets leaving his wife. His character is really well drawn. While some of the other characters are a little bit like cardboard cutouts, like Barney's boss Leo, a cigar-chompin' stereotypical boss from the '50s, they are still interesting and infused with lots of detail.
Once again, Dick tackles religion and God as he did in the last book I read, Deus Irae. Here, it comes in various forms, including the religion that pops up around the Perky Pat and Can-D experiences. But the big theological question surrounds the nature of Palmer Eldritch. Is he really still Palmer Eldritch, or had he been taken over by an alien on his space trip? And for that matter, is he now a god, or some type of supreme being? And does Chew-Z create a spiritual experience or is it just a hallucination?
The questions are tough and not so easily answered. As the book progresses, the blur between reality and hallucination becomes more and more confusing. The beginning is fairly straight-forward: you know when you are in reality and when you are in a hallucination. Or maybe you don't know. I have to say that Dick is an expert at playing games with reality. It made for a great read, though I must admit I felt a little lost towards the end. However, I really enjoyed it the ride it took me on. I give it four stars out of five.