Philip K Dick and Roger Zelazny
Completed 5/7/2017, reviewed 5/7/2017
I picked this book to read for a theology in SF/F reading challenge, and boy did I pick a doozey. At 180 pages, this has to be one of the most complicated little books I've read in a long time. I really enjoyed it, but it is heavy on the theology and has a crazy plot. My understanding is that Dick started the book, but put it down and offered it to another writer because he didn't know enough about Christianity to finish it. Zelazny saw it at the other writer's house and offered to finish it for Dick. So part of the fun of this book is trying to guess who wrote what parts. This only being the second book by Dick I've read, but the fifth by Zelazny, I still had fun playing guess the author. But the real fun comes in the crazy plot these guys dreamed up.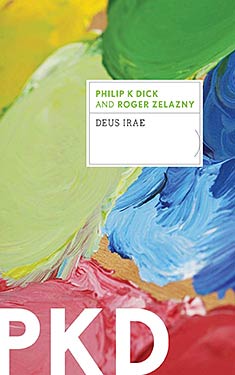 After WWIII, a new religion has formed. Its god is the God of Wrath (hence the title) and in human form is Carleton Lufteufel who made the decision to drop the bomb that destroys most of mankind. By the way, Lufteufel means "air devil" in German. Tibor McMasters is an "inc", an incomplete person because he was born without arms or legs and has bionic limbs instead. He's also possibly the world's greatest living painter. He is asked by the Servants of Wrath (SOWs) to paint Lufteufel's image in a murch, a mural in their church. Not content to use a pre-war photo which makes Lufteufel look human, he goes on a pilgrimage to find the real Lufteufel to capture his godliness. Tibor is followed by Pete Sands, a devout Christian who seeks God through the use of psychedelics, and who wants to sabotage the pilgrimage. On the way, they meet the mutants created by the bomb: talking lizard people, sentient bugs, worms, birds, and some dying AIs.
See, the plot is pretty wild. However, it's fairly eash to follow. Part of it is because the characters are developed pretty well, especially for just 180 pages. So you get the characters quickly and jump right into the craziness that is their missions. I really like Tibor and Pete even though they are both rather flawed. Tibor gets sick when it's time paint. And he really wants out of painting Lufteufel. He even considers converting to Christianity just to get out of it. Pete has taken his parish priest's advice a little too much to heart and is willing to do anything to stop Tibor.
There's a lot of humor as well, particularly with the mutants and AIs. I particularly liked Pete's encounter with the autofac, the underground automatic factory, that tortures Pete by "repairing" his bicycle. And the book is kind of a sausage fest. There are only three women, but two of them add humor as well. One is the long-suffering wife of a SOW priest, the other is the long-suffering pipe smoking girlfriend of Pete. As I write this, I realize that despite his nefarious mission, Pete does seem to be at the center of much of the comedy.
The theological part comes into play in several ways that are pretty integral to plot. To say too much gives away a lot. However, I will say that the theme is that over time, we lose the authentic records of faith and come to rely on that which was artificially created. It's sort of like the game of telephone. Go through enough people and the original message is replaced by the wrong message. That which is authentic is lost forever.
I give this book four out of five stars. It's a lot of fun, particularly if you know a lot about Christianity. It also helps if you know a little German (which I don't). Dick uses some German phrases and poetry, not all of which is translated. And it might require some forays into Wikipedia like when he talks about some heresies. Okay, some caveats to getting it, but I got it and enjoyed it. I think the average person will too.