Completed 10/22/2016 Reviewed 10/24/2016
Triptych was a surprisingly good book. It's about alien refugees from a dead world coming to live on earth and integrating themselves into our society. It specifically follows one alien, Kalp, who comes to fall in love with and enter a relationship with a human couple, Gwen and Basil. There's a little more going on in the book than simply that, but that plot is a substantial portion of the book. Told from the point of view of the alien, it is one of the most intriguing books I've read in a while.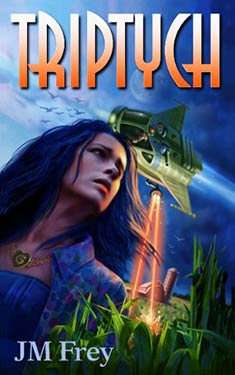 What I liked best about this book was that it looks at humanity from the point of view of the alien. It makes it an examination of human behavior from an outsider's point of view. There are some scenes which are a little trite, like confusing laughing and crying and of course sex and fighting. But they are done well and keep the story moving.
Kalp the alien is a wonderful character. He is so earnest in his attempts to integrate himself with humans that I just ached for him. The aching grows as he falls in love with Gwen and Basil. You see, on his planet, unions are made of threes, not twos. Hence the title: A triptych is usually a painting or some other art on three frames hinged together. By having three persons in a relationship, one can bear and raise a child, the second takes care of the bearer, while the third continues to work and support the whole family. So it is natural for Kalp too fall in love with the couple. The fun, and eventually, the heartbreak comes in as the three adapt to the triptych.
Needless to say, this setup does not sit well with everyone. Some humans show their lack of humanity as they target the aliens and their lovers for assassination. It is an obvious reflection of our society's intolerance to the LGBT community. But I didn't mind being hit over the head with the metaphor because the characters, particularly Kalp, are so well done. And the writing is particularly good for a first novel.
This book is definitely a hidden gem, one that I wouldn't have discovered if I hadn't worked on the LGBT resource list for Worlds Without End. It was nominated for a Lambda Literary Award several years ago. I give this book four stars out of five for the interesting take on bisexuality and polyamory with the twist that the third is an alien. But also because it was highly readable and a great third person narration from the alien's perspective.