Completed 9/5/2016 Reviewed 9/13/2016
This book is science fiction in the true sense of the term: it is fiction that deals with science. In this case the science is genetics. A family is on a tropical island studying butterflies with a strange genetic mutation. A civil war breaks out and the parents are killed, leaving Prabir to care for his younger sister Madhursee, getting them rescued. Twenty years later, Madhursee returns to the island to study the growing number of genetic mutations in the region, leaving Prabir to deal with his ghosts from the past.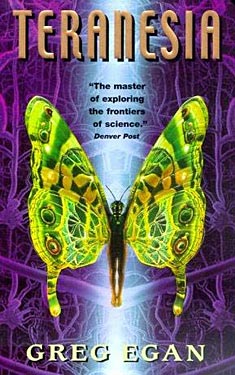 The book is very hard science. I was surprised at how technical the biology was. There were times I had to skim over the prose because it was too technical for me. However, I gleaned enough to get the basic gist of what was going on. My lack of deep understanding didn't take away from my enjoyment of the book.
The characterization is really good. Egan wrote Prabir well, delving into the mind of a nine year old, and then presenting him twenty years later, more than a little controlling and broken. The other characters are good too, but Prabir is the main character and it's his perspective that the book is written in.
I should also note that the author is Australian. His familiarity with the tropics and the politics of the region creates a realism that a non-native wouldn't have. It took me a while to integrate this fact with the organic nature of the book. It reads so naturally of the tropics of Indonesia.
I give this book four out of five stars. I really enjoyed it even though the science is quite hard. It gets especially exciting as the book progresses and Prabir discovers the other mutations that have been infesting the region. It's a smart, exciting read.