Completed 2/14/2016, Reviewed 2/17/2016
This is an anthology of some of Neil Gaiman's personal favorite short stories about, well, unnatural creatures. They range from werewolves to dragons, from killer inkspots to Death itself. As a thematic whole, the book is quite good. I found myself excited by each story, wondering how the creature would be presented and in what style and genre it would be written. The stories are mostly fantasy, but also draw from horror and magical realism. And the list of authors alone was enough to keep me turning the pages.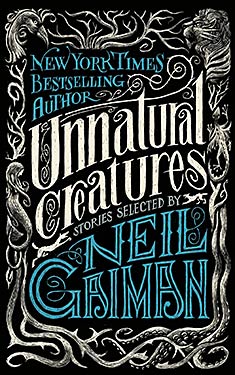 My favorite story was the first, "Inkspot" by Gahan Wilson. It was really different; a proper gentleman finds a pesky inspot on his tablecloth. In the blink of an eye, the spot has grown and changes location. The gentleman calls in his butler to help. After it continues to grow and move, he brings in a paranormal investigator. And it keeps getting bigger and the story gets weirder.
Another favorite was "Flight of the Horse" by Larry Niven. A time traveler goes back a thousand years to retrieve a now-extinct horse for a rich man. What he actually comes back with is the sort of wonderful twist that I love in SF and Fantasy short stories.
A third I want to mention is "The Compleat Werewolf" by Anthony Boucher. It's a rather pulpy take on the werewolf theme, with a magician and Nazi spies. It also has an interesting angle, being that most people can turn into other things with the right predisposition and a magic word. I fully expected not to like this story but found myself pulled into the goofy noir quality.
The only story I didn't care for was "The Cartographer Wasps and the Anarchist Bees" by E. Lily Yu. I read this story in another anthology about a year ago. I hoped a second reading would help my appreciation of it. But it's not so subtle metaphor for a predatory nation was really distracting.
This anthology is definitely worth a try. It pushes the envelope of what an unnatural creature could be, including the aforementioned inkspot. There are classic authors like Samuel R. Delany and Peter S. Beagle and contemporary authors like Nalo Hopkinson and Nnedi Okorafor. There's even a story by Gaiman himself. And all the stories range from a little weird to creepy. I give this book four out of five stars because I fully expected to read a story here and there between other books, not really embracing it as a whole. Instead, after maybe four stories, I found myself looking forward to each subsequent one and was sad when I was finished.