Completed 1/5/2016, Reviewed 1/6/2016
Neil Gaiman's prose is always wondrous. I'm amazed at how much mood and emotion he can create with the relatively simple descriptions. In this story, he takes the reader inside the mind of a seven year old boy, who is unnamed in the story. A border commits suicide in the family, unleashing a terrible evil that only the boy can perceive. His only ally is eleven year old Lettie and her family who live near a pond at the end of the lane. Lettie Hempstock, her mother, and grandmother all seem to possess a power that can keep the evil at bay.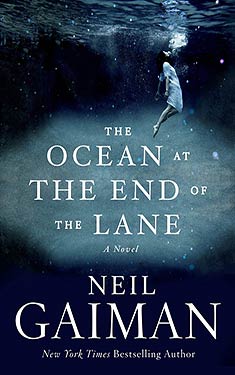 The tone of this book reminds me of Gaiman's "The Graveyard Book". Again he perfectly captures the mind of a young boy. I was easily transported into his psyche, caught up in the terror he experiences when the evil seems incarnate in the form of a new nanny, and the protection from her that he finds with the Hempstock family.
Also like "The Graveyard Book", this can be considered a young adult novel although there are some very serious scenes. It is basically a horror novel, although it has also been described as magical realism. I don't exactly agree with that categorization. The book reminded me more of a tamer, less graphic or perverse version of Clive Barker, with crazy, imaginative creatures breaking through the fabric or our reality.
I don't have a whole heck of a lot else to say about this book. It's very short and very direct. It's a quick read but explodes with beautiful language. It never feels literary but it confirms for me that Gaiman is one of best writers I've ever read. My experience is that he drew me in quickly, held me tightly through the whole book wringing me out emotionally, and laid me gently down at the end. I would have loved to have heard the audio book version of this read by him. I think it would have left me teary-eyed. I give this book five out of five stars.