Completed 7/26/2020, Reviewed 7/26/2020
Whew, finally finished this book.

It took me almost a week to get through these 240 pages.

I really just don't care for Melissa Scott.

She has won four Lambda Literary Awards and two Gaylactic Spectrum Awards.

This book won the latter.

I only gave one of her books four stars, Death by Silver, from a different series.

The other books in this Astreiant series, Point of Knives, Point of Dreams, and Point of Hopes, I gave two and three stars.

This is another three stars from me.

It's a complicated mystery about disappearing silver coin, murder, and dog races.

What makes it complicated is the world building.

She uses a lot of obscure words for common things.

She introduces a ton of characters with names I found difficult to remember.

She gets a lot of love from the LGBTQ+ community as well as on various review sites.

I just don't see it.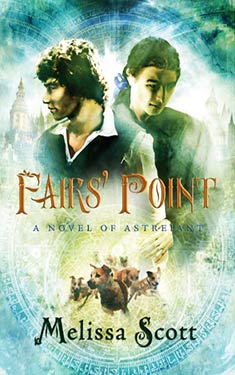 Nicholas and Phillip are lovers who are drawn into many mysteries, Nicholas by virtue of the fact that he's a pointsman, that is, a police officer, and Phillip as his lover and a former soldier.

This time, Phillip gets a race dog at the disbursement of an indebted estate that owed him money.

As the dog moon approaches, the dog races are beginning to heat up.

Phillip enters his new charge into the fray.

At the same time two bodies are found, one with a piece of silver coin in his chest, another silver coins riddled throughout his body.

Silver coins are also found lodged in the side of a certain building when the stars are right.

Coincidentally, silver coins are magically disappearing from the strong boxes of the bookies taking bets on the dog races.

This is all happening in Fairs' Point, a district in which Nicholas doesn't have jurisdiction and in which he's quite diskliked.

He gets drawn in, though, because he's the best and has solved other major mysteries in the past.
The character development is decent.

Even though the two main characters have been in three other books, we do get a decent look at their comfortable relationship and their personalities.

I had a hard time following the secondary and minor characters though because I couldn't remember who was who, except for the dog trainer, a woman from an extended family of pickpockets and thieves.

She's a terrible thief, as her stars foretold, so she trains dogs for the races.
I find the world building really complex.

After three other books, you'd think I'd be comfortable in it.

But I find it difficult to grasp.

There's some magic, alchemy, and astrology, but none of it intrigued me.

The land is matriarchal.

There are many people in positions of power, management, the police, and the military who are women.

That too should be interesting, but it wasn't.

It just kind of existed.

Maybe that's a good thing, in the sense that it is so indigenous to the culture that it's not noticeable, and I'm just missing the boat.
As with many of her novels, I find the prose to be as complex as the world building.

It doesn't flow for me.

It's not a comfortable read.

Instead, I found myself going back over paragraphs to see where I was losing the flow of the story.
I give this book three stars out of five, which is a good.

That's a little high for all the negatives I threw out, but when all is said and done, I have to say the plot is good.

I was interested in finding out who the silver thief and the accomplices were.

It did keep me going to the end.

I've read quite a few reviews that said that they knew who the murderer was early on, but I missed it, I think, because I couldn't keep the lesser characters clear in my head.

At this point, I hope I don't have to read any more of this author's books for a while.

But to be honest, a lot of people like her stuff, so if you're a mystery fan, I'd say ignore my review, give her a try, and judge for yourself.