Completed 7/13/2020, Reviewed 7/13/2020
I started the Alpennia series because the third book won the Gaylactic Spectrum Award, which I want to read.

This book was nominated for one a few years prior, but didn't win.

Nonetheless, it's a terrific fantasy about an unlikely heiress and her bodyguard with a mysterious background set in an imaginary country in Europe.

I got a little lost with all the names, as there are a lot of characters, but it didn't deter me from enjoying the book.

The fantasy aspect is a little unusual in that the magic system is called mystery and calls upon the power of the saints.

So there's a theological aspect to it.

I also liked that the romance was a very slow build and didn't dominate the book.

All in all, it was highly entertaining and I'm looking forward to the rest of the series.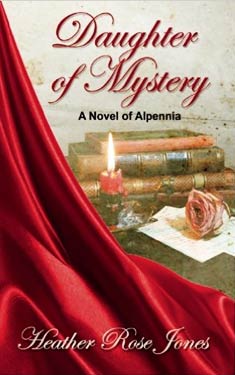 Margerit Sovitre is a young woman of less than noble birth who is the goddaughter of a baron.

When he dies, she inherits his fortune and his bodyguard.

Called an "armin", she only goes by one name, Barbara.

The circumstances of her birth are a mystery.

Though Margerit inherited the fortune, the title and most of the baron's estate went to his less than honorable nephew.

Barbara must protect Margerit from the nephew who believes he deserves the fortune and will do anything to get it.
Margerit and Barbara, needless to say, are two good, strong, female characters.

Margerit has a gift for seeing the results of the mysteries performed at Mass and in honor of the saints.

She can see the energy as it flows from the saints.

She has her own ideas of her future.

It includes going to university to study theology, although education is a man's world.

It does not include getting married, as is expected of all young ladies in this early Victorian-like world.

She's always been strong-headed, but now with her fortune, she's able to get a little independence from her guardians, who are more concerned with her new position in society and her marriageability rather than her own wishes.
Barbara is really interesting because she's a young woman in a man's role.

She's even killed a man in a duel for the Baron she used to work for.

Her transfer from the Baron to Margerit is unexpected.

She was supposed to gain her freedom upon his death.

Instead, she has to work for Margerit until both women reach their majority.

Fortunately, the two women had developed a decent relationship and she acquiesces to her new role.

However, that role of armin may be compromised by Barbara's growing love for Margerit.

In the meantime, she searches for her own origins to try to dispel the mystery how she became an orphan and how she came to be a servant for the Baron in the first place.
The whole theology of the mysteries is very interesting.

When Margerit goes to university, she takes theology and philosophy classes.

She is asked to join a guild to study mysteries and to build one of their own.

The process is described really well as is her power to see its effects.

And what's really cool about it is that Barbara is also somewhat of an academic and assists Margerit in the process.

Of course, that's done secretly as Barbara is below the station of Margerit and her academic peers.

Barbara's main focus has been law, which she uses to figure out what she can and cannot do as an armin.

It also comes into play later on in the book as Margerit's life comes into some serious danger from the Baron's evil nephew.
I give the book four stars out of five.

It's a very well-done period fantasy that's well written and intriguing.

The magic is different from anything else I've read.

The romance is very realistic given the period and the circumstance.

Right from the beginning, I was able to identify with the main characters, even though Barbara is aloof for quite a way into the book.

Whenever I'm reading a series in preparation for one of the later books, I often dread the time and effort I have to make to read all the precursors.

But with this book, I was pleasantly surprised and am glad I've started from the beginning.