Completed 2/11/2017 Reviewed 2/21/2017
"Smoke and Shadows" begins a series by Tanya Huff that follows a supporting character from the Blood novels. Tony, an ex-junkie and hustler, has gotten clean and sober with the help of vampire Henry and is now working as a production assistant on a Canadian TV series about a vampire detective. Despite all the inaccuracies, considering he was in a relationship with a vampire, he likes his job. But strange things begin to happen around the studio. First he notices that the shadows seem to have a mind of their own. Then there is a death on set. And suddenly, Tony is in the middle of his own paranormal investigation. With Henry and a wizard from another dimension at his side, Tony tries to subvert a takeover from the Shadowlord.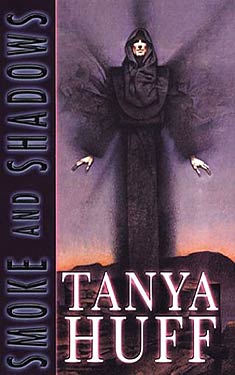 This is another fluff novel from Tanya Huff. But I have to say it was very entertaining. First off, I really liked the meta-scenario of a guy who knows about vampires working on a TV series about a vampire. The show, "Dark Night", reminded me of the Canadian syndicated series "Forever Knight" from the 90s. It wasn't a great show, but it was fun fluff. Like this novel.
One of the best things about the book is that it is self-contained even though it's part of a series. It seems like I've been reading a lot of books lately that are part of a series and are not self-contained. I don't mind it as much anymore, and don't begrudge authors writing trilogies. After all, my favorite book is LOTR, a trilogy. But for the most part, these days, I want to read a book that ends. This one did. I was so happy at the end of it. I think that's part of why I gave it a high rating.
As far as characterization goes, Tony is great. He's gay and has a crush on a one of the stars of the series who is apparently straight, but gives off mixed signals. He also goes on a comical date with the show's music director, who has a crush on him. All this, though, creates some conflict because Henry is still in the picture. Tony is no longer in a relationship with the vampire, but he still helps Tony out throughout the story. There's a few interesting instances where we understand why Tony wanted out of the relationship when we learn of Henry's possessiveness. It's not just normal possessiveness, but the kind that a vampire has for his prey, and it's intense.
I found Arra, the wizard from the dimension of the Shadowlord to be a bit annoying at times. She has a great setup. She's the special effects director for the show. Of course she uses her powers to create great effects on the show's low budget. Unfortunately, she does not want to help our hero subdue the Shadowlord. It's understandable that she's reluctant considering she barely escaped destruction in her own dimension. However, I would have liked to have seen her have more backbone throughout the story rather than just near the end.
I gave this book four stars because I had a lot of fun with it. It's not a great book, but I really enjoyed it. At some point in the future, I would consider reading the other books in the series, just not now. Tony's a great character and I'd like to see him have success in life, amidst all the supernatural urban fantasy that he gets into.