Completed 1/29/2017 Reviewed 1/30/2017
I've been hit or miss with Bujold, particularly the Vorkosigan Saga. The book was a hit. The plot is a little off the main line of the Saga, more like an offshoot. It revolves around Ethan of the planet Athos, a world of men. It turns the meme of a female utopia on its head. Children are born from uterine replicators, which is not unheard of in this universe. With a planet of only men, the replicators wear out and new organs are needed. Ethan, a doctor who works with the replicators, is chosen to go in search of a new supplier after the previous package of ovarian cultures is sabotaged. It forces him to go out into space and deal with the rest of society for the first time ever, including women. It leads to some comical moments. Of course, this being part of one of the more famous space opera series, Ethan ends up in the middle of espionage with the evil Cetagandans.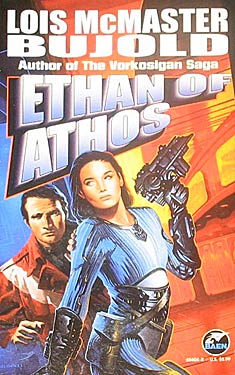 What's surprising about this book is that it was written in 1986 but is a mainstream novel that deals with gay issues. Many of the men on Athos are in M/M relationships, though not all, mostly those who raise children. Being a planet of only men, all the children are sons. Now it should be noted that the gay issues are quite tempered. But there's a bashing scene that was really traumatic to me. And just the fact that it exists in this book from such a long time ago is quite stunning to me.
The culture clash between Ethan and the rest of the universe is embodied in Elli Quinn, a female mercenary who is after the same Cetagandans that are after Ethan. She keeps on popping up on Ethan, causing a lot of cognitive dissonance. The scenes are humorous even though the circumstances become direr. It's fun to watch him slowly back away whenever she approaches him. You see, the planet of Athos is actually rather misogynistic. It is incorporated into its religion and morality. Women are seen as the embodiment of sin. So whenever Ethan interacts with Elli, he's concerned that her immorality will rub off on him. At first the misogyny is disconcerting, but Ethan comes to understand and appreciate Elli, and of course the lessons are learned. The best part is watching all that develop and unfold for Ethan.
I give this book four stars out of five. It's a surprisingly fun, fast-paced space opera romp. It's a quick read yet has enough depth to contain messages about tolerance and acceptance. The book is self-contained in this epic multi-book saga so it can be read without having read any of the other books, which I always find a plus.