Completed 1/26/2017 Reviewed 1/30/2017
It's been a long time since I awarded a book five stars. This one did it for me. It's about Saloninus from "Blue and Gold", the philosopher/alchemist who lies a lot, and I mean, a lot. He's now in his 70s. He decides to sell his soul to the devil, in grand Faustian tradition, for another 20 years to finish his life's work. But the question is can the king of lies outwit the father of lies?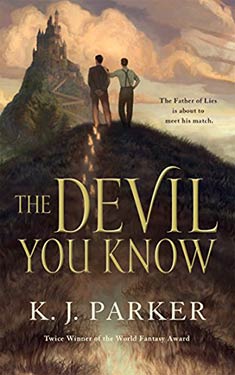 It just so happens that the demon sent to Saloninus with the contract and to watch over him for those 20 years is a fan of his philosophy. Saloninus' arguments prove the lack of existence of God and prove that morality is relative. But does he really believe his own writings. The demon comes to realize this as he comes to realize that his brilliant ward probably has a loophole to get out of the contract at the end of the 20 years.
The book is short; it is just a novella. The narration switches a lot between the demon and Solaninus, which at first is a little disorienting. It quickly got the two voices down and had no problem with the switches between scenes versus the switching between narrators, making it and easy read. As I noted at the top, I gave this book five stars because I was completely caught up in the question of what Solaninus had up his sleeve, and the demon's attempts to figure it out.