Melissa Scott & Amy Griswold
Completed 1/4/2020, Reviewed 1/7/2020
I was surprised by this book.

I haven't liked the Melissa Scott books I've read in the past, and I'm not a big fan of the murder mystery genre, but I really enjoyed this.

It was interesting, suspenseful, and had a little magic in it.

It's an alternative history Victorian London where magic is taught in schools and everyone has at least some access to it.

The murder mystery plot was well-devised and even though I guessed who it was early on, I enjoyed the journey in getting to the big reveal.

It won the Lambda Literary Award for Sci Fi/Fantasy/Horror back in 2014.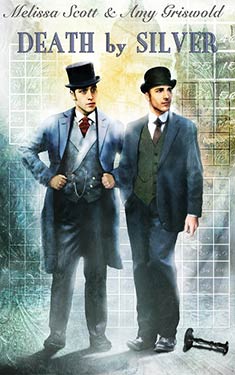 Ned is a metaphysician who is approached by the father of an old boarding school bully who tortured Ned in high school to discern whether or not his silver possessions are cursed.

After Ned finds that they are not, the man is murdered by an enchanted silver candlestick.

The man's son, the bully, hires Ned to find the killer.

Ned brings in his old private investigator friend, Julian, who was also bullied by the man's son, to help him with the investigation.

Sure enough the candlestick is enchanted and now Ned and Julian must find out how it was made so, after Ned originally found it to be clean, and who the murder is.

In the meantime, Ned and Julian are friends with benefits, each with deep feelings for each other.

Of course, they are very Victorian British and can't quite get to the point of broaching the subject, causing all kinds of miscommunication.

Somehow they still work together, getting through their uncomfortableness with each other and their torturous memories of adolescence to solve the mystery.
The plot was really fun.

Many reviewers liken it to classic murder mysteries like the works of Agatha Christie and Sir Arthur Conan Doyle.

What kept my interest is that the investigations were peppered with Ned and Julian's memories of the torture they endured in school from the bully, and the anticipation of the two trying to get over their Britishness and admit that they love each other.

And even though I figured out who the murder was, there was still some doubt because many of the suspects had their own motives.
There weren't a ton of character.

There were just enough to really flesh them out.

Ned and Julian are marvelous, with depth behind their staid exteriors.

Even the bully, who begins the story on one note, develops through the story.
I find it difficult to review a murder mystery because everything I want to say gives away key points in the plot.

So I'll just leave this a short review.

I give the book four stars out of five.

I enjoyed it so much, I will probably eventually read the sequel, of which there is just one as I write this review.