Completed 12/31/2019, Reviewed 12/31/2019
This is an urban fantasy reimagining of the Arthurian legend set in African-American ghetto of Indianapolis.

It basically works and I basically enjoyed it.

It's the author's first novel, so I could forgive him for the problems I had with it, and there are some.

But overall, it was a lofty idea and I give him kudos for the attempt.

The book won the Kitschies Golden Tentacle Award for debut novel in 2010, an award for progressive, intelligent, and entertaining genre fiction.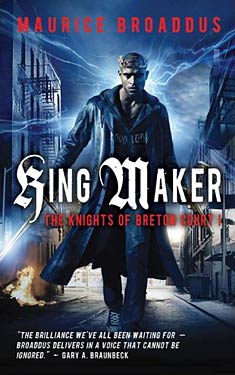 The plot is relatively simple.

A street hustler named King tries to bring together the drug dealers and gangbangers of the neighborhood to fight for a common good.

What's complex is all the background stories of all the characters, and there are a lot of them, as there are in the Arthurian legend.

And Broaddus does a good job of making their names more contemporary.

There's Lady G (Guinevere), Percy (Percival), Merle (Merlin), Lott (Lancelot), Wayne (Gawain), and many others.

There are prostitutes, heroine addicts, crack heads, drug lords, dealers, and assassins.

Some are adults and some are teens.

They all come from the same basic neighborhood, Breton Court, so their stories intertwine.

No one has a good life in the hood, so King fights an uphill battle.
My biggest problem with the book is that there is very little fantasy.

It's there, but it's limited to short sections and the end.

It involves a little magic from Merle, some faeries, ley lines, junkie zombies, a dragon, and the evil Green, as in the Green Knight.

But it doesn't all come together too well.

It doesn't flow naturally.

You wait for almost the whole book for the fantasy to kick in, but when it does, it just doesn't seem right.
There is some time line jumping that gets kind of confusing.

It's in a different typeface so you know something's different, but the timeframe isn't very clear.

The character development is uneven as well.

I got a little confused by the bad guys and their stories.

It took most of the book for me to keep straight who was who and who they were working for.
On the plus side, the world building is very good.

I felt immersed in the environs of Breton Court and the surrounding slums.

The language is realistic and the interactions of the characters seem very authentic.

Everyone has a hard edge and is suspect of one another, even the "good guys".

They grew up in a terrible situation and have little trust in humanity.

Yet, they strive to the right thing.
I give this book three stars out of five.

I found it hard to put down, but at times, I also found it hard to keep track of things.

Perspective of the narration changes a lot and doesn't always work well.

But the attempt to place Arthur and his knights in the modern slums of the inner city is well done.

I think a few more rewrites or better editing would have made this an outstanding book.