Completed 9/23/2017, reviewed 9/24/2017
I guess I'm not much of a fan of a melodrama of manners. I found this book to be quite boring. There's not much action even though it's about a swordsman in a land where nobles hire such people to duel for them. The plot is more about the fine line between killing during a duel and out and out murder. Richard St Viers is the swordsman. He's the best there is and is very difficult to hire. A noble kidnaps St Viers' lover to blackmail him into dueling for him. St Viers does not put up with this and thus we have our melodrama.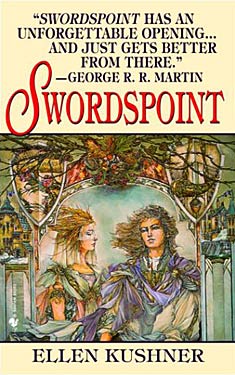 The characterization is very light. I didn't get much of a sense of most of the characters. St Viers is quiet and aloof. His lover Alec is sarcastic and cynical, a former scholar who now gambles too much and gets into all sorts of little scrapes. There isn't much that holds them together except the fact that they are together. But I think that's also because of the writing style. I get the feeling that Kushner wanted to keep the relationship low key, but the side effect is that there isn't much to explain why they remain together. There isn't even that much kissing. So if you want a book with M-M relationship but none of the romance, this is the book for you. I included this book in a list of LGBTQ themed books for Worlds Without End because it was inducted into the Hall of Fame of the Gaylactic Spectrum awards. I believe it was inducted because it was an early book where the gay theme was an integral part of the book and yet handled as a non-issue. I just wish there was a little more romance between St Viers and Alec.
The noble characters all bled together for me. There wasn't that much to differentiate them. Plus I'm one of these people who can't handle getting a bunch of similar characters at the same time and then trying to keep them separate throughout the story. There was a whole lot of treachery and intrigue between the nobles, but since they all ran together for me, I had a tough time keeping track of who wanted to kill whom. I soon found it to be as convoluted as a space opera, of which I am generally not a fan.
The book is relatively short, although it took me a long time to get through it. I simply didn't find it all that interesting. There is no fantasy in the book, other than it being sort of a lightly alternative history of a Renaissance-ish period. I was disappointed in that. I would have liked to have seen some fantasy element make its way into the novel. I give this book two stars out of five.