Completed 9/9/2017, reviewed 9/10/2017
I'm not a voracious reader of vampire novels. In fact, I've only read a few. I picked this one up because it was by Octavia Butler and it was nominated for a Lambda Literary Award. I've not read a Butler novel yet and this one seemed like an easy first read. It was in fact a fairly easy book with strong messages about race, sexuality, and relationships. It has some of the classic vampire tropes, but with different twists. I found it enjoyable, and at times gripping.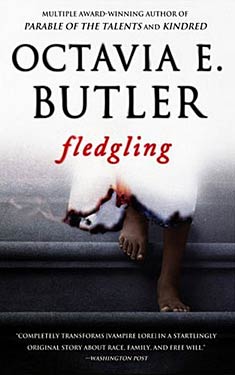 Shori is the main character. She's a 52-year-old vampire but looks like an 11-year-old girl. She's part African-American and part human. She was an experiment to give the vampires the ability to exist in the daylight. The problem is that she has amnesia from a terrible attack on her family that left her badly burned and with broken bones. She doesn't know who she is, and barely knows what she is. However, she finds other parts of her family who help her understand herself. As her awareness grows, she tries to find out who keeps attacking her family, while building a family of symbionts from who she can feed and maintain support.
Concerning the vampires, they're not undead humans. They are a different species from humans. They call themselves Ina and don't actually know what they're origin is. However, they rely on human blood for survival and do this by creating families of symbionts. These symbionts could be called Renfields to help better understand their nature. Though they are not depraved like Renfield, the symbionts do become addicted to their "masters". The Ina live sexually segregated because of dominance of the female, although their symbionts can be male or female. The Ina mate to produce offspring and several generations of one sex live together in family units.
Shori is very interesting. She looks like a child and is considered an Ina child. Despite her youth, she is perhaps one of the most adult characters in the book. She learns quickly what it means to have a symbiont. It's not just about sucking blood. It's about love and relationship as well as addiction and dominance. And needless to say, she's angry and desperate to find out who has been killing her family and is trying to kill her.
Of course, there is a sexual component to the relationship between the Ina and its symbiont. Since the symbiont can be a male or female human, the sexuality of the Ina would be seen as bisexual. Hence the Lammy nomination. But the obvious bisexuality is not as important to the story as the more latent concept of needing to have multiple symbionts to satisfy the hunger of an Ina.
The concept of race is also important to the story, as Shori is dark skinned compared to the rest of the gauntly pale Ina. However, the real racism doesn't come out until towards the end of the book, which I don't want to spoil.
I really enjoyed the story. It's different take on the vampire myth was interesting. The attacks on Shori's family are gripping. The whole ending is quite intense. I think this was as good an introduction to Butler's writing as I could have found. A lot of her other works are series, so this was a good stand-alone novel. It makes me want to dive into her other works, though with my TBR pile for the rest of this year, I may have to hold off on her other books until next year.