Completed 8/27/2017 Reviewed 9/12/2017
Wow. This book was so huge and sweeping it's hard to get my thoughts together for a review. It took me a while to get through it, considering I get most of my reading done on weekends. It was excellent, although there was so much, I occasionally got lost. I think there's a lot of things and connections I missed. The science fiction is hard, so there are sections that are tough reading. It's a space opera, but I found the politics intriguing rather than annoying. It took a long time, but I'm glad I read it.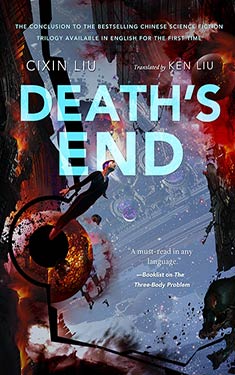 The story takes place after the Doomsday battle of the previous book. There is something akin to a Cold War between humanity and the Trisolarans. Luo Ji, also from the previous book, is the Swordbearer. He has his finger on the button that will destroy the Trisolarans, but probably also destroy the Earth. Enter Cheng Xin, an astrophysicist from our time who awakens from hibernation to help with a near speed of light propulsion spacecraft. Even though that appears to fail, she becomes beloved by the world and is voted to take Luo Ji's place when he gets too old. The Trisolarans attack and Cheng Xin must decide what to do: allow the attack or destroy the Trisolarans and possibly the Earth.
But it is much more complex than that simple summary. Cheng's relationship with the people around her and the world are complicated by the fact that she goes in and out of hibernation. So the world and its politics change over and over again each time she appears. There has been some criticism in the review literature that she is a Mary Sue. I think this is incorrect. She, like the novel is so much more complex. She does not always make the right decisions and does suffer through that.
I don't have much more to say about the book. Saying more would be mega-spoiling. My only criticism is that, like the previous novels, there's an emotional component lacking. I would have given this book five stars if I could have become more emotionally attached to the characters. If I gave out half stars, I would give this a 4.5. So I'm rounding down to a four out of five. I think the whole series is worth the effort, if you can get past the hard science fiction.