Completed 9/3/2017, Reviewed 9/3/2017
This book was a disappointment. I was told to expect something like a British version of The Dresden Files. Perhaps my expectations were too high, but I thought I would be getting some urban fantasy which was darkly humorous, or even of the goofy British comedy sort. Instead, it was a run of the mill police procedural with some fantasy thrown in. It wasn't bad, it was simply "meh".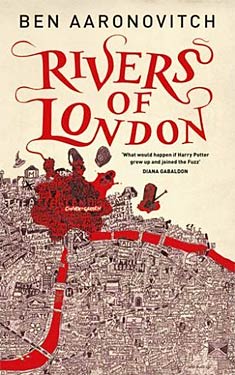 Peter Grant is a probationary constable who is assigned to a special detail that deals with supernatural crimes, all because he admits to seeing and communicating with a ghost who was a witness to a brutal murder. He takes to the assignment like a hand to a glove. The case grows as there are more murders of similar kind. Mix in some gods, goddesses, water nymphs and an ancient evil and you should have the potential for a very intriguing book. Alas the parts did not make a terrific whole.
Grant is an okay character. He takes to his magical assignment a little too eagerly for me. There wasn't a lot of time spent on unbelieving. Maybe it's because this is England where there are a lot more ghosties, or at least a lot more history for them. But I would have liked to have seen more initial resistance to the idea that he's a prime candidate for a supernatural assignment.
As I say, the parts of this book are better than the whole. One part worth mentioning is that the gods and goddesses of the River Thames and its tributaries are featured characters. It is almost reminiscent of "American Gods", except that the gods are not disappearing. In fact they are entering a conflict that Grant has an opportunity to be negotiator for. One of the goddesses, Beverly Brook, who was also described as a water nymph, actually helps him with the murder case. It's an interesting way to blend the different aspects of the story together.
Another part of the book that was intriguing was the ancient evil. I won't say more because it would be a spoiler. But it is very creative and surprising. It makes for an interesting ending.
So you put all these interesting things together and it should make for something better than a three out of five stars. There are interesting components and a decent ending, but somehow I did not find myself drawn into this universe. I was close at times, but never pulled all the way in. I think my expectations of it were too high. And I was expecting something a bit more wry.