Nnedi Okorafor
Completed 5/22/2022, Reviewed 5/22/2022
4 stars
Nnedi Okorafor is a terrific writer of stories that bring African mythology and traditions into modern settings. This book is a young adult novel, first of a trilogy, bringing the mythology to an outcast American born African albino girl and her few friends. The theme may be familiar: young adults with magical abilities, known as Leopards, fighting an evil murdering sorcerer while hiding their powers from the general population, known as Lambs. Sort of Harry Potter-ish. But the setting is so different, it feels completely new and exciting, and Okorafor's prose, even for a YA novel, is simply terrific. This book was nominated for a couple of YA awards back in 2012.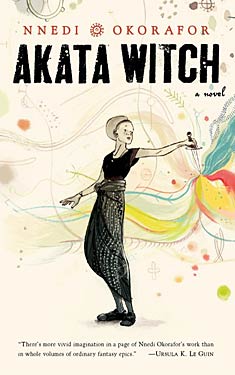 Sunny is the albino girl, living with parents in Nigeria after growing up in the U.S. Her father is extremely strict and quite abusive. Her brothers are belligerent and dismissive of her. She gets along best with her mother. And there is a mystery about her maternal grandmother, who supposedly was insane. She's ridiculed for being different at school, called "akata", literally "wild animal". One day while gazing into a candle, she has a vision of the end of the world. Then she meets three young people who recognize her as a Leopard and introduce her to the world of magic. They become students of a magic scholar. But their powers are soon recognized by the magic community at large and they are tasked with stopping a serial killer who is ritually murdering young children.
Sunny is excellently depicted as the skeptical "Free Spirit", so named because her parents weren't magical. It takes her a while to accept that she's magical and accept the rules of the magical community of which she is a part. Orlu, her only friend from school, is the level-headed one. His main ability is that he can undo other people's spells. Chichi is sort of a wild thing. She doesn't go to school and lives with her mother in a small hut with tons of books. She has an eidetic memory, remembering everything she reads. She has particularly powerful magical gifts, executing some meant for more mature Leopards. Lastly there's Sasha, and African-American boy sent to Nigeria because he uses magic in front of Lambs, getting into constant trouble. What's particularly great about these kids is that they each have something off about them, like the albinism or severe dyslexia or even ADHD which makes them particularly special Leopards, overcoming their disability once they embrace their magical abilities. I really liked the whole gang. Each have distinctive personalities and several of them instigate trouble. It helps define their characters, making them unique and interesting.
The world building is quite creative. There are magical places that are hidden from the Lambs where Leopards live apart from them. There are insect ghosts, which come back to haunt if they are killed by humans during their life. There's a blue wasp that only stings if you don't praise it for the structures it makes out of crumbs. There's a red grasshopper that if you're lucky, sings you to sleep. There are also Masquerades, terrible spirits that can be conjured but almost always cause serious trouble.
I found this book to be quite awesome, a fresh take on the training magical youth trope. The characters were very vivid and the prose is descriptive without be overbearing. I've come to really like Okorafor's work. Previously, I loved her Who Fears Death as well as the Binti novella trilogy. I give this book four stars out of five and really look forward to reading the rest of this trilogy.