Completed 1/5/2015, Reviewed 1/11/2015
The more SF I read, the more likely I am to reread a book. "American Gods" was an easy candidate for several reasons. One, I needed to complete my reviews of Hugo winners, and I read it before I was writing reviews. Two, it took me too long to read it the first time and I got lost in it a couple of time. Since my first read of it around 2005, my reading commitment, and therefore my comprehension, has gotten a lot better. Three, having had a lot more exposure to non-Greek and Roman mythology through my fantasy readings and personal experiences, I've found myself more intrigued by the premise of the book: a war between the ancient gods and the gods of modern technology and society.
It's tough to pin down a favorite part of the book. It's simply masterful in every way. Shadow, the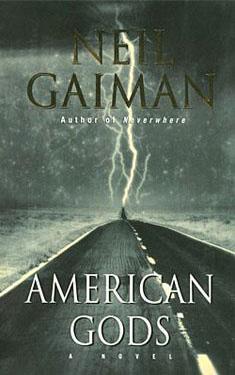 main character, is easy to identify with. Down on his luck, barely hanging on to sanity, he's just coasting along, doing what he needs to do to survive. That happens to be being an assistant to a Norse god, who he seems much more like a mob boss than a deity. Shadow is constantly put into precarious situations, but has a dark guardian angel in the animated corpse of his deceased wife. She's sort of an anti-deus ex machina device. If you're going to have a deus ex machina, this is the way to do it.
He travels the Midwest meeting other gods, all of whom are old and barely making it in the modern world themselves. As Oden's sidekick, his mission is to help convince these others to join Oden in a battle for their survival. And of course, there's the modern gods, like TV, trains, and cars, who are bent on getting Shadow to side with them. In a particularly fun scene, as he begins nodding off in a hotel room with the TV on, Lucy Ricardo, not Lucille Ball, engages him in a conversation in the middle of an episode of "I Love Lucy" and attempts to seduce him.
Throughout the story, we get snippets of how some of the ancient gods came to the New World, as it was settled by the Old World, often supplanting the gods of the earlier inhabitants. Shadow's meetings and these interludes help create a very believable world of the odd and supernatural, reminiscent of the feel of some of Clive Barker's disturbing settings, though less horrifying. And through all this, there's even a mystery of the disappearance of young girl from a sleepy Midwest town, which at first seems extraneous, but turns comes full circle at the end of the book.
As complex as the plot is, it never feels complicated. Gaiman is an amazing writer and storyteller. He writes prose that doesn't seem like prose. It's literary without being stuffy. The plot and the action move the story like a suspenseful pop novel, but the prose creates a mood and effect that leaves the reader stunned and breathless.
It's difficult to write more details about "American Gods" that doesn't reveal the climactic denouement and the shocking twist. Even having read it once before, I was surprised at how effective it was on my second read. While I didn't have some life changing emotional response to this book, I found it truly wondrous. When I finished it, I understood why so many people have read this book over and over, because I wanted to immediately reread it again. "American Gods" is simply magical. Little wonder that it was nominated for and won so many awards. Five out of five stars.