Completed 5/27/2013, reviewed 5/27/2013
This book was quite a huge disappointment for me. Based on the little blurb on the back cover, it seemed to have some interesting plot points. It barely had one. The Windup Girl aspires to being a dystopian classic. I found it rather boring.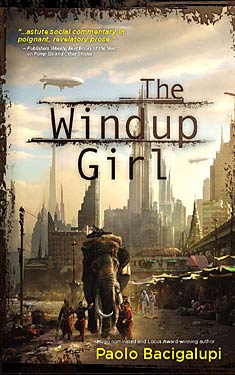 The story takes place in apparently near future Thailand, in a world where food companies (calorie companies) control all food creation and distribution. They even create blights which destroy normal food so that people and nations rely on their genetically modified food. Agri-business. It should be intriguing, right? With all the underhanded influence Monsanto has on the world, why wouldn't this plot be intriguing?
Bacigalupi transforms Bangkok into a dystopian city, akin to New York in Blade Runner. Dirty, humid, hot, corrupted, crawling with the poor, and run by government organizations trying to keep the calorie companies from taking over completely.
One of the biggest disappointments to me was the concept of calorie currency. If it wasn't on the back cover, I never would have known calories were supposed to be currency. If it really is, it's hard to tell with all the normal money floating around for bribes. So don't be confused. The currency is the baht, the Thai unit of currency. That is the only thing that flows. If calories are currency, Bacigalupi didn't take it to where it would be obvious.
The only character I liked was the wind-up girl, Emiko. Her characterization was quite elaborate. Unfortunately, she was hardly in the book. The evil calorie lord, Anderson, began interestingly, but quickly seemed to become a supporting character. Anderson and Emiko had a relationship. However, the development of the relationship was not described. It was inferred by the reflections of the main characters. I would have liked to have gotten a more detailed look at how their relationship progressed. It would have created a better basis for the plot twist later in the book.
I think the reason I didn't care for the main characters was that we spent too much time in their pasts. We only learn about them through their reflections on their lives, not in their present. There really isn't much action. This is a book about setting moods. The action only really happens at the end. The rest of it is about the main characters spending lots of time running, hiding, or pursuing, while thinking about their past.
As I mentioned, most of the action happens at the end. That's where the story finally gets gripping. But it is too much too late. Even the revolution that happens in the middle of the book is only another device for character reflection.
I gave this book 3 stars. It is like much of the previous noir winners, but at least I felt like the prose was readable.