Completed 8/1/2014, Reviewed 8/15/2014
"Slow River" is set in the near future where all water is controlled by a few powerful corporations who recycle it with advanced biochemical technology. Lore's family owns one of those corporations.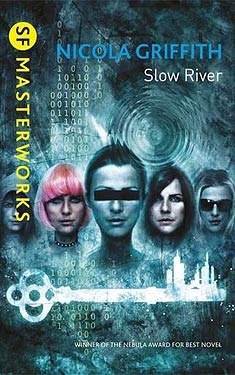 She wakes in the rain in an alley, left by kidnappers who had held her for a huge ransom from one of the most powerful and richest families in the world. Badly hurt, exhausted, and without her ID chip, she is found and taken in by the thief Spanner. She stays with Spanner, living with the identity of a dead woman, and joining her in a life of illegal scams and prostitution. It's either this, or return to her privileged life in a dysfunctional family of sexual abuse.
"Slow River" is a powerful book about coming to grips with the past and figuring out that we have choices. Lore's journey is one of self-discovery, making some bad choices and trying to rectify them. Spanner is locked into a destructive lifestyle. Their relationship is also destructive. As Lore takes control of her own life, she realizes she has to leave Spanner, and the financial safety net that comes with their dysfunction lifestyle.
I really liked the fact that Lore's sexuality is not an issue. The issue is overcoming sexual abuse and breaking out of unhealthy relationships so that she can learn real trust and love. Her sexuality is as central to the plot as it would be if the main character was an abused heterosexual person.
This book is rather slow, perhaps an allusion to the title. I found myself not really liking any of the characters at first, nor being interested in what they were doing. It really didn't pick up steam until the middle of the book, when I found I was caught in its current. I was pulled into Lore's struggle for self-actualization and awareness. I felt like I was trudging through the book, but I was doing it happily. By the end, I realized I had read an important novel and was glad I didn't give up on it.
Looking back on this review, I realized this is one of my shorter reviews. I think it's because the book took me by surprise. The whole was bigger than the sum of its parts. So I don't have a great analysis, just a few observations with a very strong endorsement. 4 out of 5 stars.