Completed 8/9/2014, Reviewed 8/11/2014
Just a few days ago, another reviewer whose blog I frequently read noted that his taste in genre fiction has migrated to what he calls "Disturbing Fiction". This book is definitely disturbing. Every scene, every relationship, every subplot made me feel uncomfortable. But I didn't find it disturbing in a good way.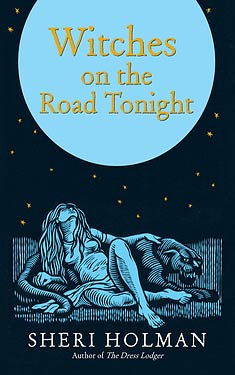 Eddie Alley grew up in rural Virginia with an alleged witch for a mother. She seems to be a shape-shifter of sorts, finding pleasure by removing her skin and riding the men of the town at night like horses. In a strange twist of fate, Tucker, a writer and Sonia, a photographer from the WPA hit Eddie with their car while driving down a dirt road. While staying to make sure he's okay, Eddie quickly becomes attached to strangers. They become enmeshed in an odd relationship with this family, and then suddenly disappear.
As an adult, Eddie hosts a schlocky horror movie show as Captan (sic) Casket, a la Vampira and Eliva, Mistress of the Dark. He and his wife take in Jasper, a street urchin who's infatuated with Eddie's TV persona. Instead of creating a healthy environment for the boy, the household becomes a battleground with Jasper at the center. In response, Eddie's daughter Wallis follows in the footsteps of her grandmother. Now dying with cancer Eddie wants to reconcile with his Wallis.
The only character I really liked was the writer, Tucker. Steeped in the witchery, he seemed the only character to have and express realistic, complex emotions. But the main character is Eddie.
You would think that as a horror show host and with a witch for a mother, Eddie would be ripe for complexity. But, in the scenes where Eddie as an adult is trying to keep Jasper in the family, you get no real insight into his motivation. There's the simple explanation of his childhood attachment to the writer who never returns, but it's not sufficient. It felt like the author took the easy way out by not giving Eddie more complex. That simplicity makes his daughter's dysfunction seem like nothing more than the ignored child acting out. I found myself wanting to reach into the book, wring their necks, and shout, "You're not deep enough to have responses like that! Get over yourselves!" There are books where the dysfunction of the characters propels the plot, and there are those where it just becomes annoying.
I was disappointed in "Witches". The title, the synopsis, the award, all indicated something more profound than what was offered. Everything is disturbing, the skin-sloughing witch; the rural children; the creepy relationship between Jasper and Wallis; the even creepier relationship between Jasper and Eddie; and Wallis' acting out as an adult. But it didn't add up to the horror I was expecting. Instead, it felt like a pop psychology exercise on an afternoon TV talk show. 2 out of 5 stars.