Zen Cho
Completed 12/24/2022, Reviewed 12/24/2022
4 stars
I really liked this book. I basically finished it in a day. It's easy to read, with effortless prose and believable dialogue. The plot is interesting, utilizing the rather common trope of the old being destroyed to make way for the new, but with the involvement of an angry Chinese god in Malaysia to make it fresh and interesting. I had previously read Cho's The Order of the Pure Moon Reflected in Water, which I thought was okay, even though it had been nominated for several awards including the Lambda Literary Award. This book, a full-length novel this time, didn't get a Lammy nod, but felt like a much better product with a Lesbian main character. It did get a 2022 World Fantasy Award nomination, however, and I stumbled across it because it is the February read for the in-person Science Fiction Book Club.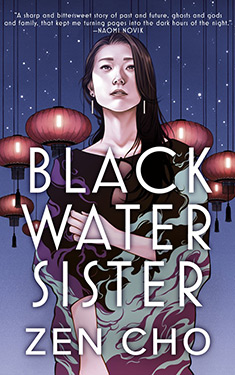 The book opens with Jess and her parents moving back to Malaysia after living in the U.S. for nineteen years. Jess has just graduated from Harvard but doesn't have a job yet. With the move, her relationship with her partner is transitioning to a long-distance one. Strange things have begun to happen to her. She hears voices which she thought were hers, but comes to realize it's of her grandmother who's been deceased for about a year. Her grandmother is angry that a massive condo development is going to raze a temple to several gods, including to Black Water Sister. She charges Jess with trying to stop this. However, there is more to this than what grandmother tells, with the past clashing with the present in more ways than one. In addition, Jess is not out to her parents, nor her extended family, and this burden adds extra pressure.
Jess is a delightful twenty-something who is torn between her sexual and cultural identities. She draws the reader's empathy easily and all her decisions, good and bad, strike at your heart. The grandmother is also a great character. She gruff and opinionated and more than a little underhanded. Jess' parents, as well as her extended family, come across as more than stereotypical Asian parents, but still evoke the frustration one gets from their suffocating parenting style. I felt like I was immersed in their family dynamics and could feel the frustration Jess felt.
The world building is quite good, describing modern Penang while evoking the past through the encounters with the Chinese gods. I could feel the stifling heat and smell the smells of Penang. You also get just enough of an exposure to a few gods to be able to stay in the story without feeling overwhelmed, but still feeling immersed in the religion of the region.
I give this book four stars out of five. I enjoyed it thoroughly even though the trope has been done so often in science fiction and fantasy. Cho makes it feel fresh and immediate, mostly through the interaction of Jess and her grandmother. There is some rough violence in the book which may have a triggering effect on some readers, so be forewarned. But overall, it's a really good book that has put Cho back on my radar as an author to watch for.