Completed 8/17/2020, Reviewed 8/17/2020
Books about mental illness are often both extremely engrossing and disturbing.

This book is definitely both.

I could barely put it down.

The main character is schizophrenic.

She is an unreliable narrator, she acknowledges that she lies, and she makes a distinction between truth and factual.

The story is a ghost story, or maybe it's just her illness, or maybe it's somewhere in between.

This book is one of the most nominated books in a while, getting Nebula and World Fantasy Award nominations among many others, and winning the Bram Stoker and Otherwise Awards.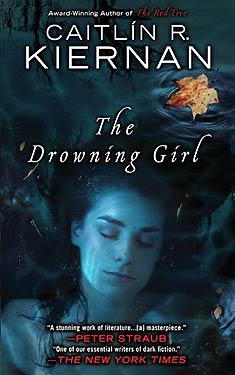 India Morgan Phelps, known simply as Imp, is a dangerously trusting person.

When a neighbor is kicked out of her living situation, she invites her to stay with her.

They quickly fall in love.

Soon after Abalyn moves in, Imp finds a young woman standing naked on the road in the dark.

Out of concern for her, she brings her home, much to Abalyn's consternation.

Eva Canning, the young woman, leaves the next day, but Imp becomes obsessed with her.

She see's her around town.

She dreams of her.

She begins to see and hear her when no one else can.

Then she goes off her meds.

Abalyn can't handle this and moves out.

Is Eva real, a ghost, a siren, a mermaid, a wolf, or simply a symptom of Imp's schizophrenia?

That is the question that underlies the novel.
The characters of Imp and Abalyn are very well-developed.

Imp draws a lot of sympathy as she struggles with the questionable reality of Eva and her relationship with Abalyn.

I found myself really liking and being concerned about Imp despite her unreliable, non-linear narration, where lies may not be factual, but they are the truth.

She paints for a living, making art for herself as well as what she considers crap for the tourist trade.

She also writes short stories to help expunge her demons, one of which was published, but others which she never wants to publish.

She is very much behind the times, not knowing anything about computers or contemporary music.

Her album collection is her mother's vinyl from the '70s and she doesn't know what it means to google something.
Abalyn is transgendered woman who writes video game reviews for a living.

She has just come from a disastrous relationship.

Imp tells her about her mental illness, and Abalyn deals with that as best as she can until it becomes intolerable.

She is a strong person, easy to disturb, but patient enough that she is present through much of the story.

She adds some credence to the ghost story because she actually sees Eva the first time Imp brings her home.

I liked Abalyn a lot and was saddened the first time she leaves Imp.
The writing of the book is marvelous.

It's not always quite coherent as Imp meanders and gets side tracked.

There's one chapter where she is off her meds.

It's equally enthralling and vastly incoherent.

But the style overall is quite unique.

Reading it is experience, as there isn't much plot or action.

You experience Imp as she goes in and out of her illness.

You experience Abalyn in her struggle to have a normal relationship.

You experience Eva, whether she's a siren or a werewolf, or simply a woman in a red dress at the art museum.
I give this book four stars out of five.

I very nearly gave it five stars, but found the ending a little too poetic for my tastes, considering how the rest of the book is much rawer.

I really enjoyed the book, though.

I found the treatment of the transgender character to be one of the best I've ever read.

I think this book will be remembered for a long time an excellent example of how to write a book about mental illness without being patronizing.