Completed 4/30/2016, reviewed 5/2/2016
This book was first published in 1872. It is a vampire novella predating "Dracula". What makes this book interesting is that it is the probably first lesbian vampire story. I found this book in Wikipedia when I was doing my research for the LGBTQ Speculative Fiction Resource List for WorldsWithoutEnd.com. I'm glad I found it and I'm glad I included it in the list. It's a very creepy tale of a female vampire preying on young women. And it gave me goosebumps.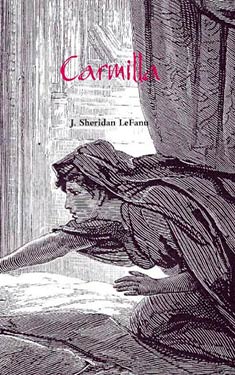 The book is very short, hence novella, or perhaps a novelette. It recounts the story of a family who takes in a young woman, Carmilla, who falls ill outside the family castle. The family is happy to help, especially since there is a daughter who could befriend her. Carmilla's "mother", (or more likely, the Renfield of the story) continues on her journey without her. The family begins by noticing Carmilla's strange behavior, and the daughter begins to have strange dreams. Soon she begins to take ill herself but hides it from her family.
The lesbian component comes with the bloodlust. Like in any vampire novel, there is a sexual component. Of course, being written in 1872, there is nothing overt. However, the seduction of the daughter by Carmilla is very erotic and enhances the creepiness of the story. I have to admit I haven't read "Dracula" or any other early vampire stories, so I can't compare. But one must conclude that the eroticism of this book set the stage for all the vampire variations now familiar to us.
I initially had difficulty getting into the rhythm of the Victorian storytelling style. Aside from that, the story is pretty well written, being told in first person by the daughter. I give this book four out of five stars for being a creepy page turner despite being over 140 years old.