Completed 4/26/2016, reviewed 5/2/2016
The Glittering World is another book that takes something out of mythology and plants it in a contemporary setting. This time, it's the changeling. A changeling is believed to be a faerie child put in place of a human child stolen by the faeries. The changeling was often used in medieval times to explain children with developmental or social problems. In this book, a man comes to find out that he was a changeling, realizing that his whole life was a lie, and tries to find the truth about who he is and where he really came from.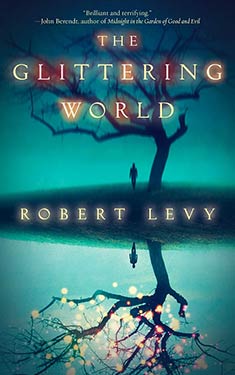 Blue takes a trip to Nova Scotia with three friends to close out the sale of the house his grandmother left him upon her death. When they arrive, they find that the town is the remnants of an old hippie commune, replete with artists, mystics, naysayers, and secrets. Blue begins to hear strange utterings of being welcomed home and sees things in the woods. Soon he finds an article that reveals that when he was five years old, he and a little girl disappeared into the woods for several weeks. Slowly other memories come back, and he's determined to find out what happened to him.
The book is well written and constructed. The narrative follows linearly, but is told in third person sequentially from the perspective of each of the four friends. So there are four chapters, one for each character. This form builds the mystery as people disappear and reappear while keeping the narration non-omniscent. I really enjoyed the build up of the suspense in this way.
I also really liked Gabe, Blue's co-worker, who is obsessed with him. There was something so sweet and innocent in him, despite the unhealthy bond he formed with Blue. Gabe reminded me of myself when I was younger and how I easily fell in love with anyone who showed me a little affection.
I give this book four out of five stars. Especially as a debut novel, it's quite impressive, with good prose, well thought out characters, and an intriguing plot.