Completed 5/11/2016, reviewed 5/15/2016
"The Dust of Wonderland" is a psychological horror novel about a gay man who is plagued by a long dead evil just when his life was at its most content and stable. The evil emanates from a horrific incident from his youth at a notorious club called Wonderland in New Orleans. Now a killer pursues his children, his ex-wife, and his former lover. Aside from "Carmilla", it's the first horror novel I've read in over a year. While it didn't scare the pants off me, it was suspenseful and exciting. It won the Lambda Literary Award for SF/Fantasy/Horror in 2008, his first of two.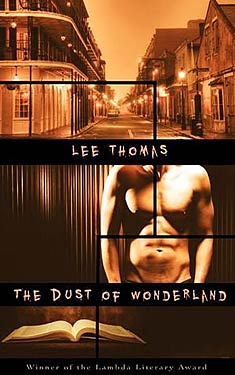 Years ago, I read a lot of Stephen King, Dean Koontz, and Clive Barker. Coming back to horror is kind of like homecoming. If the writing is at least decent, I quickly settle into the suspense and read it voraciously to the climactic end. Thomas writes decently. He's not too prosy, and keeps the action going.
The main character, Ken, is flawed, but I still rooted for him. He knew he was gay as a teen, but still pursued the dream of a wife and kids. He comes out again later in life, finds a good man to settle down with, but then runs away as the haunting begins. After two years, the haunting turns into a physical attack on his son and he returns to face the demon from his past.
The book is short, taut and very readable. To go into too much detail would give away the ending. Suffice it to say that it is a good thriller and I look forward to reading other books by Thomas. Horror is my fluff reading and I enjoy returning to it. I give this book four stars out of five.