Nalo Hopkinson
Completed 9/4/2021, Reviewed 9/6/2021
5 stars
Another terrific book by Hopkinson. This one combines the Caribbean myth of sea people with magical realism of a woman named Calamity entering menopause. Not only does she experience physical changes, but is forced to confront and adapt to changes all around her. It's about change and self-discovery narrated by Calamity herself as she experiences the strange things around and within her. It's an imaginative story, a little less traditional than the average story in that if features a more mature woman as a main character. It was nominated for multiple awards, winning Canada's Aurora Award for 2008, which I believe is equivalent to the Nebula Award here in the states.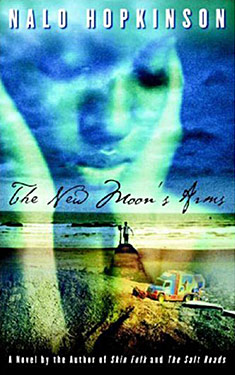 The book begins with Calamity at the funeral of her father whom she cared for in the last few years of his life. She had been estranged from him because she got pregnant at fifteen. Calamity's mother died under suspicious circumstances when she was about eight. Calamity begins finding objects from her past, which eventually seem to be connected to when she gets hot flashes. Then, after a drunken and stormy night on the beach, she finds a strange boy with a broken leg caught in a large clump of seaweed. She gets the right to temporarily care for the boy until a foster family is found. But the boy does not appear to be human, seeming more like the mythical sea people that supposedly live around the island. Through the experience of caring for the boy, she must deal with her estranged daughter, Ifeoma, Ife's father Michael who's gay, and a few potential romantic partners.
Calamity, whose birth name was Chastity, is a very well-developed character. She's unusual in that I don't think there are very many stories of women undergoing menopause in Sci Fi and Fantasy. So we get a character with mood swings and hot flashes who must reevaluate her life and the relationships around her. Her relationship with her daughter is strained. She's also very homophobic. This probably comes from the fact that she loved Michael, Ife's father, when they were teenagers. He was already aware that he might be gay and she convinces him to have sex with her to figure it out. When it confirms he is gay, she's resentful and angry. As an adult, she a full-blown homophobe. Despite these problems with her current relationships, she cares for the boy she found on the beach with amazing openness, being the only one to really believe he might a sea person.
As with all of her novels, the prose is tremendous, with the right amount of smart word choices, rich descriptions and convincing dialogue. I was really astounded by the inventiveness of the finding of things during hot flashes being a reawakening of her ability to find lost things as a child. But in adulthood, it is more extreme. First she finds a pin that was lost or possibly stolen from her when she was young. Then the items lost escalate until the cashew orchard from the island where she grew up appears on the island she lives on now.
There are also substories distributed through the main text, including flashbacks like meeting a little sea people girl when she young. There's also a story that gives the mythological origin of the sea people. In this book the sea people are sort of a human-seal hybrid. It's reminiscent of River Solomon and Daveed Diggs' The Deep, which is a very recent book. It makes me wonder if Solomon and Diggs had read this book, or if they came up with their slave escape myth on their own.
I give this book five stars out of five. It's another powerful and original novel by Hopkinson. Even though Calamity is not a very likeable character, she's strong and smart and has her own metanoia at the end. She learns the hard way about herself and her character defects. She's still not perfect at the end, but better than she was. It's perhaps more realistic than a perfect Hollywood ending.