Seanan McGuire
Completed 9/22/2021, Reviewed 9/23/2021
4 stars
I enjoyed this book much more than the first, Every Heart a Doorway. This one was very different than Doorway, telling the tale of how two of the first's characters grew up, found, and then were expelled from their Faerie world. The world-building was terrific, the prose gorgeous, and the character development much more complete. Overall, it was much more focused, yet didn't skimp on details. I got this and the next three novellas in the series free from Tor publishing. I'm so glad I did because now I'm hooked. This book was nominated for a Hugo novella award in 2018, among others.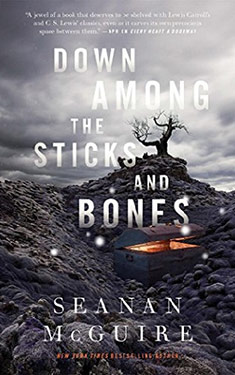 Jacqueline and Jillian are twins, born to a prosperous couple who didn't want children until everyone else in their social circle started to have them. Their father wanted a son and their mother wanted a daughter, so Jacqueline was raised as a girly-girl and Jillian was raised as a tomboy. Their roles were very tightly controlled by their parents. Their only respite was their grandmother who lived with and helped raise them for five years. When they were twelve, they found their doorway to another world, one of vampires, werewolves, and a scientist who brings people back to life a la Dr. Frankenstein. There, Jillian gets "adopted" by the Master, a vampire who controls the nearby village. He molds the tomboy into a young lady, complete with frilly dresses, in hopes that one day she will become a vampire and heir to the Master. Jacqueline becomes the tomboy, apprenticing to the mad scientist, and falling in love with a local girl. But as they grow older, things begin to unravel as Jillian becomes jealous of Jacqueline and misreads the Master's wishes.
That may sound like a lot of plot, but we already know some of the outcome already from Doorway. So the ending is no surprise. The joy of this book is in the storytelling. There's a good amount of tension between the two sisters throughout the story. And the world-building is wonderful: a land of moors, a frightened village, a scary castle, and an isolated windmill. The village lives under constant fear of the Master, but also benefits from his protection from the other horrors of the moors. It seems like a strange world for the Fae, but it turns out that everyone who opens a door opens it to a world for which they're suited and longing for.
The twins (and yes, they are eventually called Jack and Jill) are an interesting pair. McGuire really gets you into their heads, seeing not just how, but why they turn out the way they do, and why they end up as they do in their secret world. The parents are very interesting as well. They are over-achieving yuppies who are not good, attentive parents. They try to shape the children into images they want, rather than letting them be who they are. They completely miss the point of having children, unlike the grandmother who understands what it means to have children.
The Master and the scientist, Dr. Bleak, are intriguing adversaries. They have a deal that as children come in through doorways, they alternate who gets them. And there are others who have come before, namely Mary, the maid of the Master's castle. It is said their rivalries have escalated in the past and one wonders if they are going to escalate again.
I give this novella four stars out of five. I was much more engaged with it than with the first book. However, I believe that McGuire must have been doing a lot of writing for the rest of the series because the first book is beginning to make more sense, now that we have Jack and Jill's back story revealed. I've already started the third book in the series, Beneath the Sugar Sky, and it confirms my theory that McGuire had a detailed outline of all the characters and their different worlds.