Emily Tesh
Completed 6/30/2021, Reviewed 7/4/2021
4 stars
This review will have some spoilers of the first book in the plot summary, so be forewarned! This book was not quite the revelation its predecessor was, but it was still pretty great. The second of the Greenhollow duology, it's a longer novella that takes us on an adventure looking for a missing woman while Silver and Tobias try to mend their broken relationship. The book has the same beautiful prose as Silver in the Wood. The writing is simply beautiful. The plot however is a little more defined than it was in the first book. It's actually a mystery that I felt lost its oomph a few times. What saves it is that it is still told with a folklore bent and the mystery chapters alternate with what happened to the relationship between Silver and Tobias after the first book ended.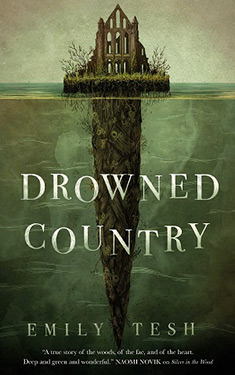 We find Silver living alone in his once glorious mansion. He is now the new Wild Man of the Wood, having replaced Tobias through the actions of Tobias in saving Silver in the last book. Having power with the trees, he's caused a crabapple tree to grow within the mansion, among other woodsy invasions. The mansion now looks ancient and overgrown. He sulks alone within it. Tobias now servers Silver's mother, chasing and destroying monsters of folklore who threaten humans. One day his mother requests Silver's help in finding Maud Lindhurst who may have been abducted by a vampire. This takes Tobias and Silver on a journey that leads them to a vast part of the forest that's been subsumed by the sea. This drowned country appears to be the world of faerie, a world which has diminished over the centuries, but has one last trick up its sleeve.
The book is told from Silver's perspective. It begins a bit annoyingly as he sulks around the deteriorating mansion over his loss of Tobias, his estrangement from his domineering mother, and the lack of support from Brambles, the dryad who was Tobias' friend in the first book. While Tobias used his time as the Wild Man building a home for himself, saving people from the evils lurking in the woods, and communing with the dryads, Silver has let the woods take over his mansion and he even seems to be becoming part tree himself. We find out why he is this way over the course of the story with the narrative of their relationship, which ended over a lie of omission on Silver's part. He's not as likeable as Tobias was, but he does work to redeem himself as he learns to embrace his new role and get out of himself by helping find Maud.
Tobias is his old quietly strong self in this book, but is holding on to his resentment towards Tobias over the lie. Both Silver's self-pity and Tobias' resentment make for a frustrating duo trying to find Maud and then stopping her from trying to enter the realm of faerie. Fortunately, the chapters recounting their coming together and breaking up eventually add light to why they are acting as they are. Maud is a breath of fresh air as a woman who is enamored of folklore herself and not acting "lady-like" in her pursuit of faeries. She's a strong-willed woman who dons men's clothing and rejects her family's plans for her.
The prose is really lovely, as it was in the first book. Tesh is a wonderful wordsmith. However, I felt that the plot made the story a little clunky. I can best describe it by comparing it to the Addams Family movies. The first one was high on mood and atmosphere, low on plot. The second was the opposite. Both were very good and entertaining, but the first one was more magical.
I give this book four stars out of five. I still enjoyed it and was really drawn into the history and resolution of Silver and Tobias' relationship. I also liked the outcome of the plot though as I noted before, it felt like it lost its oomph a few times. I'm pretty sure I'll be reading more of Tesh in the future and I think she should be ranked up there with the likes of Naomi Novik, another writer who can turn folklore into something modern and entertaining.